Caroline Weaver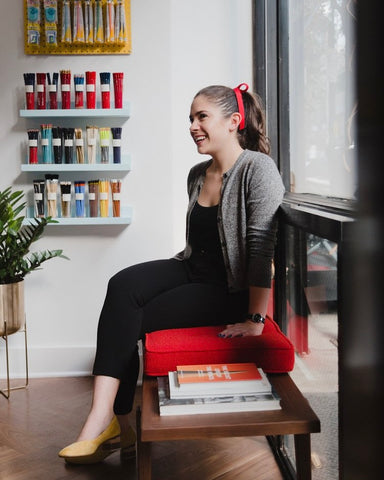 Passion takes on a whole new meaning thanks to Caroline Weaver, the founder of CW Pencil Enterprise, a pencil-focused specialty shop. A few blocks up and over from our Mott Street boutique, we've become fascinated with Caroline's singular interest (and mission) of preserving pencils in a digital age. It's easy to get lost in the perfectly curated shelves which feature desk essentials, children's books, and of course, pencils. Now with Caroline's newly-reopened shop, we're holding our breath in excitement for what's next. To learn more, we visited Caroline who shared more on her long-time love affair for pencils, running a small business, and slow living.


Meet Caroline
I'm Caroline, and I own CW Pencil Enterprise, a wood-cased pencil specialty shop on the Lower East Side.


The Inception of CW Pencils
When I first opened the shop, I didn't really know exactly who my audience would be because there weren't many businesses I could compare it to. I just held my breath, did things how I wanted to and hoped for the best. Now, nearly three years later we've just moved into a new shop and have figured it out. We meet so many analog tools enthusiasts, writers, editors, artists, families but mostly just people who care about the integrity of objects and find pleasure in doing things by hand, with physical objects. It's a real joy to meet our customers because they're all people who are just genuinely interested in finding a better pencil and learning more about them.
Pen to Paper
For my entire life, my preferred writing instrument has always been a wood-cased pencil (except for brief 9-grade foray into purple ballpoints. Yikes!). I started collecting them and collecting stories about them, and it kind of organically became my "thing." When I first moved to New York, I got a pencil tattooed to scale on my left forearm because I just wanted a daily reminder of the importance of slowing down and appreciating the simplicity of objects. That's the thing about pencils and any analog tools for that matter -- they force us to slow down, be more thoughtful and consider all of their tactile characteristics. The smell, the feeling, even the sounds -- you just can't get that from a device.


Pencils Us In
One thing I love about my job is that every day is totally different. One day I'll be at the computer entering POs into the system, the next day I might be solving inventory problems and fulfilling online orders and others I spend entirely in the shop, just talking to customers. I live nearby and love the surrounding neighborhood -- if I'm not working, I'm probably spending my time at someone else's small business. It's nice having neighbors and friends to share the experience of running a small business with. One thing I've learned in the past couple of years is that I shouldn't be afraid to ask for advice. I don't know everything about this and probably never will so it's nice to have a community of people on my side.
Lower East Side Club
When we first opened, we were in a tiny shop on Forsyth Street where there were a few other new businesses opening around the same time. It's really felt like a neighborhood where we knew everyone and saw the same faces every day. We just moved into a new shop on Orchard Street and it's basically the same thing but to the extreme. The LES/Chinatown border is a really wonderful little pocket where there are all sorts of people living and working here. Many of the businesses have been here for decades, but they're all welcoming of new businesses like mine. It's such a wonderful thing to find a neighborhood where everyone is truly looking out for each other. Sometimes I forget that we're in New York City!


Slow Script
Our entire focus is on the object that could be considered the oldest communication technology. It's by no means a convenient thing to write with as you have to sharpen it and the nature of it means that it doesn't last forever, but those are two of the nicest things about it. Writing is a thing that we do in some form every day, so we're basically selling this idea of slowing down and spending your time doing a daily task with an object that is rewarding because it isn't permanent or immediate. I spend a lot of time at home writing letters because I find the experience of sending and receiving beautiful mail extremely gratifying. It's worth the extra time it takes to arrive because it's that much more thoughtful.


Forever Items
I have a few but my #1 "forever pencil" has got to be the General's Cedar Pointe. It's made by a family-run company that was founded in the late 1800s in Jersey City. It's unpainted, smells of cedar, it has a soft eraser, and is a joy to write with. I remember buying my first ones in high school.
Photos by Bridget Badore for Coclico
Shop the Epic in Butterfly Suede new colors coming soon!