Tyla-Lauren Gilmore on Individuality and Influence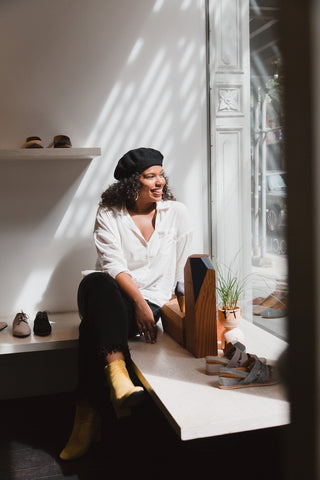 Tyla-Lauren Gilmore has style from head to toe. The New York native first caught our eye with her eclectic approach to dressing, a steadfast point of view, and passion for promoting authenticity. While the style maven is perhaps most known as an industry-leading content creator in the natural hair and beauty space, Tyla has made it a point to educate her community on the power that comes when embracing both individuality and influence in any endeavor. We experienced her enthusiasm firsthand during our stroll in Nolita after meeting at our Mott Street shop. During our walk; we learned more about Tyla's background, her seasonal resolutions, and her thoughts on authenticity. 


Meet Tyla-Lauren
Hi, everyone! My name is Tyla-Lauren Gilmore also known as @tylauren. I am a natural hair and lifestyle influencer from NYC. 
Hair, Beauty, Lifestyle
I began in 2015 when I graduated college, and I was unsure of what my next step would be. After college, I was transitioning my hair from heat damaged to natural which played a huge role in my platform. I loved sharing my tips and tricks and reaching out to people and connecting with them in any way that I could. A year and a half later it is now my full-time job, and I am so passionate about my platform and connecting with my followers in all different ways including fashion, natural hair beauty, and lifestyle. I'm a huge thrift shopper which plays a huge role in my brand on the fashion end of things because I want to show my followers that living on a set budget and looking good is super possible. 



The Era of Authenticity
Authenticity has always been a huge part of who I am because I've been very strong-minded from day one. I was always told to be myself in every aspect of my life, and I always want to represent that within my brand. I stress to my followers that being yourself is the best gift you can give the people around you. No one is you, and that is your power! 


Style Head to Toe
It took me a while to find my personal style and own it. I love shoes because they can make or break an outfit and that's exactly how I felt when I saw these beautiful Coclico yellow booties. I knew they would be the perfect start to my fall wardrobe. 
The Power of Influence
I honestly want more people to be more educated about what an actual influencer does. A lot of people have never even heard of my profession, and a lot of people have the wrong idea about it. In NYC the influencer/blogger community is growing rapidly, and I want more people to see what our job entails. A lot of people misjudge what we do because they aren't sure how much work goes into it. Being an influencer in NYC isn't just free stuff and events, it's hard work and long hours. Our job is 24/7, and we never stop working.


Fall Resolutions
Fall is my favorite season for many reasons. First, my birthday on September 16th! Second, I'm jacket and boot obsessed so I can't wait to restock my closet with a bunch of long-lined coats and funky-patterned booties.
Forever Items
The perfect pair of comfortable denim. Denim to me is essential because it can be dressed down or dressed up it and it can be worn all year around. My first concern with clothing is comfort, so denim is always number one for me.
Photos by Bridget Badore for Coclico