Alyssa Coscarelli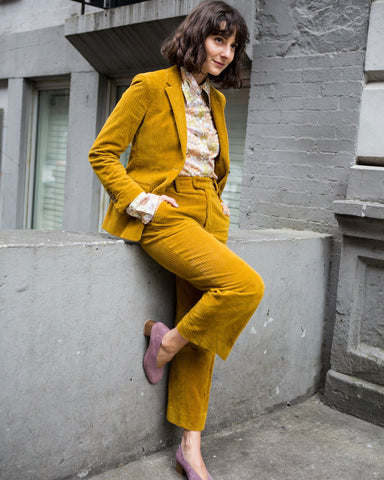 Alyssa Coscarelli's fast-paced digital life is balanced by her efforts to embrace slower, more thoughtful moments offline. While her online alias @alyssainthecity boasts a collection of meticulously curated moments of travel, fashion, and food, the style maven is on a mission to use her platform to inspire — and influence — others to make more conscious sartorial decisions that make sense for their individual personal style. Over time, Alyssa has personally put this idea into practice by shining a light on small, creative businesses and adopting more sustainably-minded consumption habits. In this interview, she speaks more about her shift towards promoting sustainable fashion along with how her female friendships and self-care rituals have helped her craft a meaningful life across the board.



Meet Alyssa
Hi! My name is Alyssa Coscarelli, and I'm a freelance fashion writer, consultant, and influencer. Since I just went freelance in November of 2018, I'm really excited to be my own boss this year.
Influencing Conscious Style
What people might not realize is that in my position, I'm constantly bombarded with STUFF! Clothing, shoes, bags, beauty products, you name it — as an influencer and "fashion person" I live a life surrounded by things, things, things. That fact alone has made me a lot more conscious about what I'm buying and what I'm bringing in. I'm super fortunate to be sent a range of products on a regular basis, but that also means I have everything I could possibly want and then some. Which means I should really take pause when I consider bringing anything else into the picture. Sure, I love fashion and beauty, but I'm now that much more mindful about my purchasing; at least, I'm trying to be.
Musings on Modern Minimalism
We're living in a time when we can all be educated and conscious consumers, and really get to know the brands that are out there, what they stand for, where they come from. So to me, modern minimalism means using that knowledge as power and being mindful of where we're putting our dollars. Frankly, I'm not a minimalist by any means (hell, I have a wall of shoes in my living room); I'm practically Marie Kondo's worst nightmare. But I think we can all practice those minimalist mantras of only keeping/buying what truly brings us joy.



The Importance of Female Friendships
Gosh, I don't know where I'd be without my close girlfriends. They're my mentors, my sounding boards, my travel partners, my stylists. It's vitally important to have people like that you can lean on, especially in a competitive, grueling, and intense city like NYC. One example of this is making time to get breakfast with my best friends at least once or twice a week, just to talk things out, hang, eat some french toast, whatever it may be. We take the time no matter how busy our schedules get.



Alyssa's Edit
Alyssa's favorite wintertime rituals - Hot baths galore, and I'm really into Infrared Saunas; lately, it's so nice to go sweat it out at Shapehouse or Higher Dose. Basically, anything to relax and stay warm simultaneously, hah.

How Alyssa plans to wear her Narwhal shoes in her winter uniform - I love the idea of pairing this little block heel with a statement sock, like a sparkle or a floral, to keep my feet warm but also pack a little extra punch.

Alyssa's sustainable style resolutions - There's a couple of cool rental programs out there I want to take advantage of — I recently signed on to a new app called Wardrobe to let others rent pieces from my closet. I love the concept and the ability to let others enjoy the pieces I love. These days it's easy to satisfy the itch of wanting to buy something new by simply renting something instead. That's something I'll definitely be doing this year.



Forever Items
I love my shoes, all of them! But at the same time, I don't know if I have a forever object. I try not to get overly attached to material things, which may seem hypocritical considered my life and career is built on them. I just think I value family, friends, travel, experiences so much more than objects, and I don't really think I have some timeless family heirloom or one sacred wardrobe item I'm especially attached to, and I'm okay with that.
Photos by Phoebe Cheong for Coclico