Laura Supnik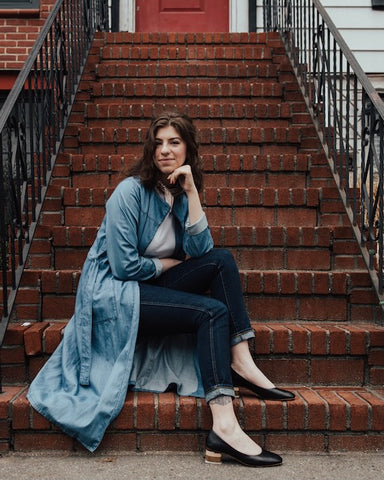 Laura Supnik is always growing - if you don't believe us, just look at her work, which speaks for itself. The Brooklyn-based illustrator has already amassed an impressive roster of clients, while still finishing up her college career as a fashion business major at the renowned Fashion Institute of Technology. Laura's days are full, but she attributes sustainability as a critical factor in how she's been able to build and maintain a solid artistic identity.

On a quiet February morning, we stepped into Laura's world and observed the artist in her element while illustrating a still-life featuring our Epic Heel. Discover our conversation below.
Meet Laura
I'm Laura! I am a Brooklyn-based illustrator, and fashion business student finishing up my final year of college at F.I.T.
On Living Artfully
It sounds so cliché when I put it into words, but I see things the way I'd see myself creating them. The light that hits the tops of the trees, and what color I'd paint them - the shade of green on my window plants... It's my preferred medium because I've always grown up surrounded by it; my family helping me to visualize it. My parents and brother are extremely artistic, and I've always been an artist since I was little because of their love for the arts.
On Slowing Down
I think it's super easy to get caught up in the whole "constantly creating" idea. I do believe that it is important to do, but I've also gotten burnt out so quickly! I've learned how critical it is to take some time to do other things, things that still keep your creativity flowing, but not necessarily your "art," because you'll eventually pull inspiration from these other sources and it'll all help you grow in the end. For example, I have been reading a lot more, and cooking!
Slow Steps
I've always loved expressing myself in different ways. I think fashion is a huge art in itself. When I'm not painting or drawing, I'm looking at clothing and new trends. I think it's a unique way of showing off one's personality because there are so many different options when it comes to fashion! I love illustrating clothing for the same reason. It's sometimes difficult to illustrate shoes/fashion because people don't always understand that illustration isn't a completely accurate form of art. Sometimes I have to remind myself of that too! High heels can be drawn a little disproportionately, and it is OK!
Word to the Wise
MAKE CONNECTIONS! Become friends with people who you look up to! Learn from them, work for them, and then work with them! It was really important for me to learn not be afraid to reach out to artists I admired and talk with them about their experiences. (They also really appreciate it!) Once you meet other artists, you will meet other people, and people introduce you to more people! You will get your work out there if you continue to talk with them and learn more about your craft and yourself.
Sustainability and Art
I believe that sustainability related to art specifically has a lot to do with sticking to creating for yourself. A lot of people change their work to suit someone else's needs, but it's important that you like your work - and still keep it true to you. It will continue along in a good way if you shape it with that thought.
Forever Items
My "forever item" has to be my "I am growing today" illustration. I think everybody goes through rough days and it's important to remember that we're all still changing. I write this a lot as a reminder to myself but am very happy that people resonated so well with it too.
Photos by Alyssa Greenberg for Coclico