Taylor Patterson of Fox Fodder Farm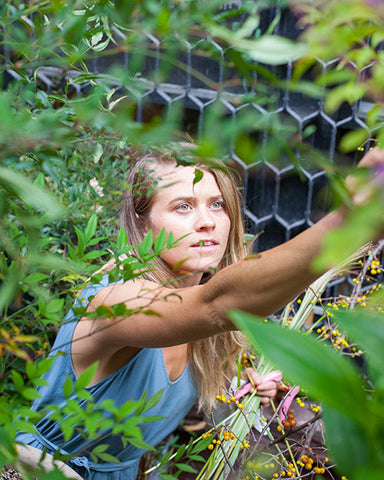 In 2011 Taylor Patterson left her job, tapped into her savings and founded the Brooklyn floral and garden design studio Fox Fodder Farm. Blending rustic nostalgia with modern elegance, Taylor's sculptural arrangements quickly caught the eye of the fashion world. She created a field of wildflowers for an Honor runway show and hanging trees for the backdrop of Patrik Ervell's fall 2013 womenswear lookbook. A natural artist with an undeniable spirit, Taylor lives and creates #withmeaning.
on DREAMS: "Just start doing it. I was fortunate enough to have a lot of supportive people around me at the time telling me to just do it. So I quit my job, dug into my savings and started a flower company. I don't think taking tons of classes and getting a certificate is the best or only path. There's a lot of ways to be involved in the industry. We've all taken different paths to get where we are and some people aren't cut out for it. A surefire way to figure out if this world is for you is to: get an internship, pay attention, work your butt off and learn what you can. You either have what it takes or you don't and that's it."  
 on INFLUENCES: "I'm influenced by a lot of things but it usually depends on my mood if something is going to stick. My florist friend Brittany from Brrch recently told me that she thinks I've managed to make the wildflower aesthetic, which is usually associated with a more rustic vibe, elegant and artful. I'm a pretty nostalgic person and I think I gravitate towards the loose, wildflower aesthetic because it reminds me of something from the past, of where I grew up."  
  on STYLE: "On the everyday I'm a jeans, sweater and boots kind of girl. While my uniform is pretty basic, I tend to gravitate towards items that are simple and timeless, but still special. I don't follow any specific fashion trends. It's more about what goes with my lifestyle and what I can be comfortable in, but also what I honestly feel complements my personality. Some days I wish I could dye my hair platinum and hot pink, dress in all black leather and maybe get an arm sleeve tattoo, but let's be honest, that's just not who I really am."  
  on FOOTWEAR: "My CELESTE and TECLA boots are mega comfortable, which is surprising because they're heels. I am not a heel girl normally so they make me feel fancier. I love that they are still eye-catching even in their simple shapes and muted colors."  
  on FOREVER ITEMS: "My best friend, who lives in Hawaii and I only see once a year, gave me a piece of heart-shaped coral last time I visited her. I was having a bad day for some reason (moody much?) and we were walking down the beach talking when midsentence she bent down to pick up something. She handed me the coral and said, 'Well, here. I love you.' It reminds me that I have awesome people in my life."