Shop Talk: Personnel of New York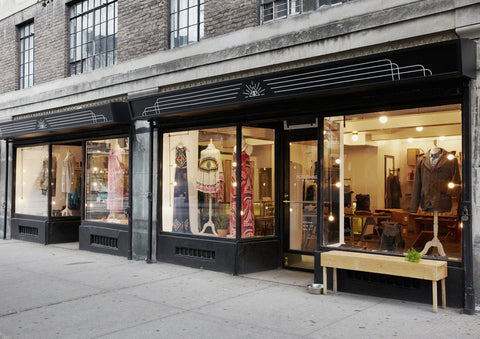 Fact is we have the nicest customers at Coclico.
 Kristi Paras and Emilio Ramirez founders of PERSONNEL OF NEW YORK 
are new comers to our prize bunch of retailers, but they are no exception to the rule. They are the full package of talent, taste, ingenuity, and cool, and we are lucky enough that our office is just a 10 minute walk to their perfectly curated shop. This week
Racked NY
named Personnel one of the "most essential shopping experiences in NYC." [caption id="attachment_4647" align="aligncenter" width="1134"]
9 Greenwich Avenue, NYC[/caption] [read_more] Kristi and Emilio opened their Greenwich Village doors in May 2013 and already they feel like a neighborhood staple.  Their mission was to give the area a place discover independent artists, creators, and hard to find brands from across the globe and just around the corner. The selection is made with ease and approachability in mind, employing a philosophy of purchasing they have referred to as
modern naturalism
- a sensibility influenced by the architecture of the city and the open modernism of California. This season they took the local-shop  global and  launched a comprehensive
online store
, complete with inspired styling and original photography. With all this going on we are very thankful to Kristy who took the time to give us the run down on the shop and her life beyond:
the BEGINNING
 I had another boutique with a partner in the same space for about 10 years prior, and in that time not only did the neighborhood change a lot, but so did I. I wanted to do something that resonated with me at this stage in my life. It was obvious that the location deserved something special, so after working together really well on a few other projects it just made sense for Emilio and I to go for it. What has been the most rewarding part? Happy neighbors! It's so gratifying to hear people tell us they love the store and think it's a great addition to the area. Also, we've met some excellent people through the shop that have become really good friends. [caption id="attachment_4649" align="aligncenter" width="736"]
Personnel of New York lookbook, shot in their Greenwich Village neighborhood. Model is wearing Uzi top // Hope jeans // Ginette NY ring // Costalots sunglasses // Coclico SARAH heels[/caption]
on MEETING 
We were introduced by mutual friends in California. It was a meeting of the minds.
on STYLE
 I'm not sure if there's a name for it, but we are interested in casual, art driven things- nothing too trendy or overtly sexy. We focus on clothing for everyday wear; the kinds of things you reach for constantly, because they are comfortable and casual enough for everyday, yet they make you look and feel really cool and confident. I think comfort is super important! The idea that to have great style you have to suffer somehow is outdated, in my view.
 on MODERN NATURALISM
 With regard to fashion, I feel it describes forward, contemporary shapes that are for wearing every day. [caption id="attachment_4650" align="aligncenter" width="446"]
SS15 Collection online soon: Kowtow of NZ jumpsuit in 100% organic cotton // Coclico FANNY heels[/caption]
on FOREVER ITEMS
My vintage army surplus anorak. It's the kind with all the drawstrings and the fishtail. It became a thing a couple years ago and every chain store did some knock off of it, but I don't care. It's worn in and patched up, and it makes me so happy. I got it for $15 on Melrose Ave about 7 years ago. The 'forever items' are always some thrift store find that cost you $20.
on COCLICO 
A great friend of mine, who happens to have style that I very much admire, was wearing Coclico's one night. She looked terrific, so of course I asked her who made the shoes. I was really impressed with the comfort in even the highest shoes. And of course I think the shapes are really good. We always reach for them when styling for the website. [caption id="attachment_4656" align="aligncenter" width="736"]
Base Range shirt // Base Range pants // Vere Verto x Personnel bag // Coclico booties[/caption]
on THE PERFECT WEEKEND
 Emilio and I are moving into a new apartment that we are very excited about. It's the top floor of a little 1830's row house and it has so much character. We're really looking forward to creating a home. It's so much fun.
get SOCIAL
 We stay connected to Kristi, Emilio and the Personnel universe through 
Instagram
, 
Pinterest
, and
Facebook
. [caption id="attachment_4655" align="aligncenter" width="736"]
Henrik Vibskov dress // Coclico clog booties[/caption]