Ruthie Lindsey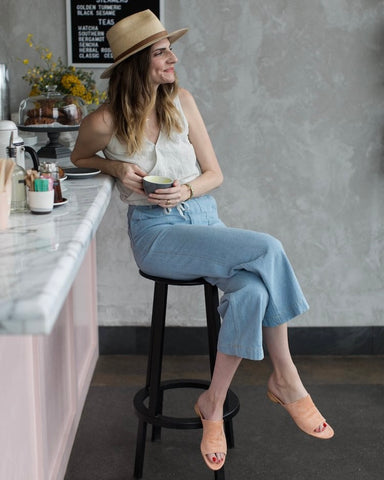 Ruthie Lindsey has a story to tell, and she's worked hard to turn her painful past into a vehicle for positivity and connection. Through her endeavors as a speaker, podcast host, and writer, Ruthie hopes to inspire others to live in unapologetically in all that they do. A nomad at heart, Ruthie's constant travels and fast life have only reinforced her commitment to conscious living. This idea also extends to her style, which inspired us during our (laughter-filled) coffee date at Cafe Roze, one of Ruthie's favorite local cafes in Nashville. There, she spoke with us about her experiences, storytelling, and forever items.
Meet Ruthie
Hi, my name is Ruthie Lindsey, I am a speaker, podcast host, and soon-to-be author from Nashville. I am very excitable because I am a seven on the Enneagram test!
A Story to Be Told
At seventeen years old, I was hit by an ambulance outside of a gas station in rural Louisiana. I broke my neck, punctured my lungs, and ruptured my spleen. Doctors performed a spinal cord fusion using wire, and miraculously, I walked out of the hospital within a month.

Only a few years later, newly married and settling into adulthood, a simple turn of my head left my body riddled with chronic pain. My case confounded medical professionals, and in the months that followed, I became addicted to narcotic painkillers, depressed, and bedridden. After dozens of visits to specialists and surgeons, a doctor discovered that the wire holding my neck together was piercing my brain stem. Without another surgery, I would be paralyzed.

As I prepared for the procedure, my father passed away suddenly, my marriage began to collapse, and I surrendered my spirit to dependency and suffering. The surgery repaired my spine, but I was still broken, inside and out - Until I chose to change my narrative.

I went home to the same town where I almost lost my life. I decided to learn joy again, to retrain my spirit to soothe my physical pain, to salvage strength from my suffering. I traded fentanyl for sunsets and morphine for picking wildflowers on the side of the road. I stopped using my body as a hiding place and started using it as my bridge to connect with the world.

Now I get to travel the globe sharing my story, empowering others to find purpose in their pain, to look for beauty in the midst of their brokenness. My forthcoming memoir, Salvaged, will be available through Touchstone/Simon and Schuster in 2019.
Speak Your Truth
When we share our stories, we realize we aren't the only one. Pain can be so isolating, but it's also universal, so when we are honest about our pains and struggles, others walls come down, and real connection happens in those "Me too!" moments.
Home Sweet Home
I love being in Nashville. It's my sweet little home and feels like a haven to me while being with my community. I have the best friends on the planet so being with them is my greatest joy! I would say Nashville is so supportive of conscious brands and is becoming more and more that way - I love it so much.
Fast Life, Slow Style
Most of my style often comes from laziness… I actually really dislike shopping! I do wear a uniform that includes jeans, overalls, jumpsuits, simple tops, shoes that go with anything, and hats pretty much every day. It makes it really simple!
Forever Items
A few years ago my best friend Garrett Cornelison and I spent six weeks in Nicaragua working and we mostly stayed at a beautiful surf village called Maderas Village. We absolutely fell in love with everyone that worked there, and we became like family! On the last night we were there, we had a little going away ceremony and Garrett and I both told everyone what amazing things we saw in each of the staff and why we loved them so dearly.

They presented me with the most gorgeous and thoughtful gift of my life - one of the girls, Rochelle Lee, is an amazing artist and she took a cow skull that she found on the side of the road and carved into it beautiful native Nicaraguan plants. Then she carved wood that is only local to Nicaragua and glued it into the mouth. It's truly one of the most beautiful, intentional, and thoughtful keepsakes I've ever been given and now it hangs above my bed!
Photos by Aleah Milliner for Coclico