Introducing Haley Ann Robinson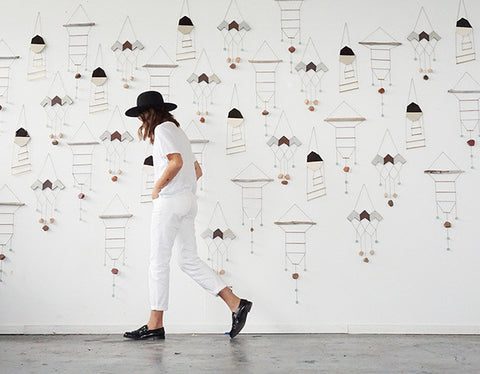 The Portland-based graphic designer and object enthusiast Haley Ann Robinson is a design junkie who's mastered the art of the creative hustle. After spending her days as a graphic designer, Robinson fills her evenings with her own brand of functional art. From Adobe to ceramics to woodworking to textile design to mobiles – and hopefully metal casting one day – Robinson is about design all day everyday.
"I remember making the connection that everything around us has been touched by a designer in one way or another -- from street signs, to book covers, magazines, clothing -- and I wanted to be a part of it," Robinson recalls. "Great design creates a conversation. A reaction." And react, we did, to Robison's geometric forms, commissioning a set of her Wood Geos that are currently keeping the shoes company at our Nolita store. "The Coclico pieces are pretty special," Robinson admits. Robinson's objects have a 'to each his own' utilitarian vibe that only customized, handmade products can offer. "The fine details and time it takes to create something by hand is so inspiring," Robison says. "It sparks something in the viewer that entices them, leaving them wanting more." We were so enchanted with Robinson's work and how the sculptural forms and bright palette lived in the Coclico environment that we brought her in for a bigger collaboration to be unveiled this Spring. Watch this space for more.
   on CREATIVE NURTURE / BEGINNING "At a young age, my grandma -- we call her Nana -- taught my sister and me that there's a vast amount of creativity within ourselves. She would buy me coloring books and let me color for hours. We walked around barefoot in the California desert and drank from mason jars filled with fresh goat's milk. She let us dress up in her dresses and shoes, would curl our hair and we'd have tea parties. I think she could see an artistic fire in me and kept fueling it throughout my childhood."
   on BEAUTY + FUNCTION "I tend to gravitate towards things that I can use in a multi-purpose way. Why not take everyday items and make them something beautiful? I like to give individuals who aspire to own original pieces access to functional art. It's human nature to gravitate towards beauty, so why not embrace that? Lately I'm really into looking at furniture design and obsessing over the details. The geometric lines designers embrace, coinciding with the idea of functional art is endlessly encouraging."  
  on BALANCE "I tend to get so caught up in computer world that it's nice to have other mediums to turn to. I love that both are creative outlets, but they are two very different sides of my personality. Design has taught me so much about organization -- using the gird, having restriction, while ceramics and woodworking, for me, is more about letting go of restrictions, giving in to the clay or wood, and letting it guide me, instead of the other way around."  
  on GEOMETRY "I think geometry is beautiful. But to be honest, I'm terrible at math. I'm a really good problem solver, however. Every project I do from beginning to end is like an equation. Somehow there's always something that goes wrong that takes time out of creating to solve. It's frustrating at times but when you finally solve the problem it's like solving the equation the first time, every time! I look at it from an artistic perspective. Geometry has a bonding link in nature. I think what initially drew me to creating the Wood Geos was the idea of crystals. They're organically created with these drastic angles. How amazing is that?!"
  on PORTLAND "Portland is such a small city and it's kind of perfect in that way. The season's colors are breathtaking and so inspiring. When I first moved here from Southern California, I had no idea the seasons could be so drastic. I find myself obsessing over nature's seasonal neons. You can drive 20 minutes outside the main city and you are in a forest or on a river completely secluded! The uniqueness of the craftsman architecture, the amazing food -- there's an endless list of what keeps me inspired here."  
   on STYLE "My clothes are an extension of me, therefore, we have a continuous connection and constant evolving conversation. I love the weird, the simple, the one-of-a-kind, and the classic. I love how Coclico shoes embrace negative space. The shapes they take on are inspiring and timeless. The materials are thought out and tasteful. I believe in the idea of buying smart, investing in pieces that will last and continue to be timeless but when you have such a dynamic personality, you never know what you're going to gravitate towards each and every day, so I love to have a little bit of everything to choose from."