I AM A SEED SAVER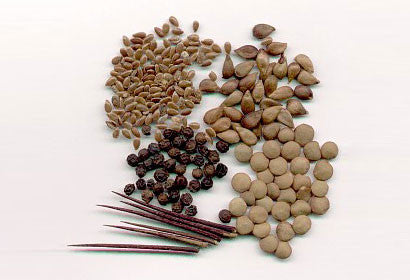 This Earth Day Coclico is donating 20% of the day's profits to Seeds of Survival, helping to support programs and training for seed and crop diversity, for replenishing the soils that grow our seeds and our food, and for the rights of those who nurture them.
[read_more] Seeds of Survival, run by USC Canada, advocates for agriculture that is managed, controlled, and consumed by local populations. As Jane Rabinowicz, Director of the domestic Seeds of Survival program, explains, "one of the things we hear in the global seed community is 'Control the seed, control the food. Control the food, control the people.' We work to empower communities to achieve ownership over their own food supply."  
A way towards that empowerment is biodiversity, one of the most important issues in the changing environmental landscape. Rabinowicz tell us "If your plant population size isn't big enough your crop becomes weaker, it becomes vulnerable to pests and diseases. Diversity breeds resilience."
I am a Seed Saver is the name of USC's outreach campaign, and has attracted the attention of such high profile supporters as Feist and Bruce Cockburn. As Rabinowicz says, I am a Seed Saver is an effort to bring the issues of biodiversity into people's homes and gardens. "Be aware, be in solidarity, care. Caring is powerful, spreading the word - if you are a gardener save your own seed and see how it feels, experiment when you see something out of the norm at your local food market. It's a platform to improve public awareness and to help build consumer demand for diversity."
One of the goals of I am a Seed Saver is to get people engaging in dialogue that goes beyond just buying local. "Even people interested in local food are part of a global system. Much of the local food we eat comes from imported seed. We want to encourage locally adapted and diverse seed, but we recognize not all seed can be grown successfully in all climates. Coffee is a good example of a crop that we consume every day but could never grow at home. We need to make responsible choices and be in solidarity with farmers around the world."
To learn more about the cause and how to become a Seed Saver yourself click here. And please join us on Instagram this Earth Day (Wed 4/22) if you'd like to participate in a Q&A with Jane Rabinowicz.