Eskayel X Coclico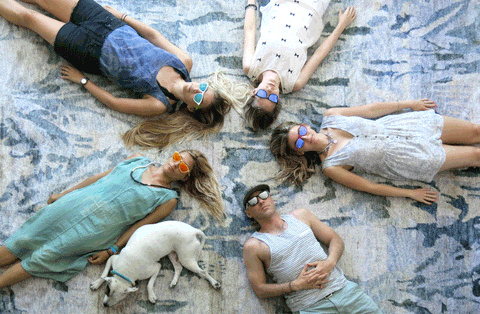 Introducing the Eskayel x Coclico limited edition capsule collection.
"The cure for anything is saltwater. Sweat, tears, and the sea." Isak Dineson
The Coclico SS17 collection is rooted in our awe of the sea and surf. There is comfort and reassurance in a repetition of ebb and flow and a perpetual promise that equilibrium will always be restored.
Nothing felt more right than when Shanan Campanaro of Eskayel grooved with us on a collaboration for a print design for the season. Surfer, designer and eco-warrior, Shanan's style and ethos are the perfect complements to this collection.
The colors of the ocean are a foundational design stimulus for Eskayel, with H2O playing an essential role in the creative process, painting with aqueous inks and often soaking the paper completely, letting colors bleed and blend into one another.
With great deliberation, we landed on Eskayel's iconic Nairutya print for this collaboration. Now available on a limited edition capsule collection of our favorite silhouettes.
According to Maharshi Parashar Paramarsh, 'Nairutya or South West represents the problem free life of a person. It is the direction of overall social, mental and economical wellbeing.' Seems good to us. 
ABOUT ESKAYEL
Eskayel is a New York based surface design firm with a mission to create energetically positive, eco-friendly, wall coverings, fabric, carpets, accessories, and furnishings that bring value through innovation and beauty into the home and public spaces. 
Designs are inspired by travel and nature. The colors of the sunset and ocean are a big influence. The all over patterns are at once dynamic and soothing.  The most recent trip took Shanan to Sumba, a small island in Indonesia renowned for weaving traditional Ikat cloth. In Sumba, Shanan was able to have her designs woven into cloth to be used for pillows and upholstery as well as engaging in some light personal shopping. Her practice for keeping a tight, but wonderfully unique, wardrobe is to shop locally - globally.
Wall coverings are produced without toxic VOCs.  Natural linen and organic cotton are used for the fabric bases and recycled materials are used whenever possible.  All inks used for printing are water-based. 
DESIGN WITH A CONSCIOUS

 
Protecting the environment is the center most concern of both companies. For this collection, we sought a metal-free wet white base leather that has the supple hand feel of glove leather. The heels are solid wood from a renewable source, and the padding recycled. The ink for the print is certified as the best available for the environment, used to print on baby shoes - and Coclico.
The Nairutya print was adapted to the special shape of each pattern and size.