Erin Boyle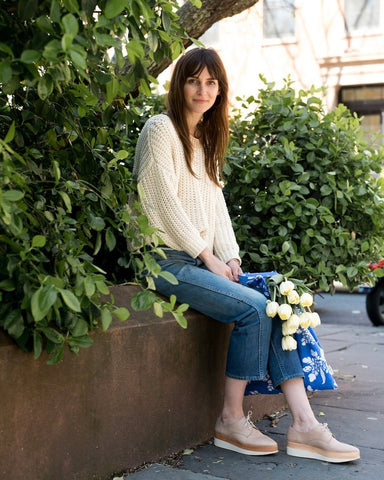 Simplicity matters, just ask Brooklyn-based lifestyle blogger and author, Erin Boyle. Erin's longtime affinity for slow living has contributed to a more extensive conversation about sustainability and conscious consumption, which she addresses in a variety of posts on her blog Reading My Tea Leaves. These ideas were also a driving force for her first book, Simple Matters. When we met with Erin for a walk around her neighborhood in Brooklyn Heights, we were immediately inspired by her casual-cool Spring uniform (which now includes our Pekos Wedge in Bone Leather) and easygoing demeanor. During our stroll, Erin spoke more about blogging in this day and age, the importance of outdoor space, and what currently matters to her most.



Meet Erin
I'm Erin Boyle; the founder of the lifestyle blog Reading My Tea Leaves, where I write and take photographs, and author of the book, Simple Matters. I love exploring themes of simplicity and sustainability, especially as they relate to everyday life. Right this minute, my everyday life is lived in a one-bedroom apartment in Brooklyn, New York that I share with my husband and two young children.



Reading My Tea Leaves
The inception of Reading My Tea Leaves began what feels like a century ago in terms of digital years. I was just a few years out of college, working at a job that wasn't satisfying my creative itch, and waiting to hear back from graduate schools. I felt like I was reading my metaphorical tea leaves, trying to figure out what the future held. At the time, I had no idea that it would include turning my site into my full-time job, but I feel really lucky that it happened, and especially that it happened slowly over time. I didn't set out to write a "simplicity" blog, or a blog about minimalism, or any of the other buzz words that get tossed around, but that's what emerged.

The internet can be such a rich place for finding inspiration, but it can also be overwhelming. Every day it's possible to be bombarded with a million different approaches to living life—not to mention a million different things you might feel like you need. I feel really grateful that I've been able to shape my blog into a place that feels at least a little bit removed from some of the noise and hubbub. I hope it's a place where people feel like they're able to slow down a bit, but more importantly, a space where we —myself and readers alike—can challenge our own choices and seek ways to better care for the planet—and the people on it—along the way.
Simple Matters
The most obvious change since I wrote my book is that I'm now the parent of two young children. I sold my book when my daughter was just five-months-old and finished writing it when she was not yet a year. She turns four at the end of the month! I'm still living in the same one-bedroom apartment in Brooklyn, and still running my own business, but now there are two little kids in the picture. That adds a level of complexity to my days, for sure, but I've also found that having kids practically forces you to recognize that what you really need is just the basics: food, shelter, sleep, and yes—I'm going there—love. 



Tiny Hearts
We're a family of four living in a small one-bedroom in Brooklyn, so space is a precious commodity. If I could ask for space for anything, it'd be just a square of outdoor space. We're so lucky to live in a neighborhood that's filled with access to the outdoors, but nothing beats being able to open your back door and have your toes in green grass. Seven years of living in tiny New York City apartments, and I still miss that.



At the Height of It
I love our neighborhood. It's quiet and tree-filled and close to amazing parks, but still right in the middle of a bustling city where practically anything I want or need can be found within walking distance. I think it's fascinating to think about how geography impacts our lifestyle, but I also think a slow and sustainable life can happen anywhere.



Minimal Style
To be totally honest, it's strange for me to think of myself as even *having* a sartorial style. I like to dress really simply, and I'm most comfortable when there isn't a lot of moving pieces. I keep a pared-down wardrobe in part because I don't have very much room in my apartment to store a larger one, and in part because I don't like spending a lot of time on getting dressed. That said, there are so many inspiring folks who are trying to be thoughtful about the way they're making clothes. It's heartening to follow the work of small labels doing good work in a system that's pretty broken.
To folks in the Coclico community looking to incorporate more ethical and sustainable brands into their wardrobes, I suppose I'd say, have fun with it. I love a good challenge and do really well with limits, so I always suggest that folks try to set a goal for themselves—maybe it's buying only secondhand for a season, or buying only organic fabrics, or seeking out locally made clothes. Whatever it is, it can be fun to see how setting a limit can force you to get creative.



Forever Items
Before blogging full-time, I worked in a number of museums, so I'm really interested in the idea of objects telling stories—and I'm especially interested in how folks do this with the objects in their homes. I write a lot in my book about not allowing myself to get so sentimental about things that I end up drowning in stuff, but paradoxically, I also want the things that I do keep in my house to have meaning for me personally beyond aesthetics. On the cover of my book is a picture of my antique headboard. I found it in the attic of the house that I grew up in, and I love it for all kinds of reasons, but mostly because it feels like it roots me to my family and the place where I come from.

Photos by Alyssa Greenberg for Coclico