Emily Katz Is a Modern Maker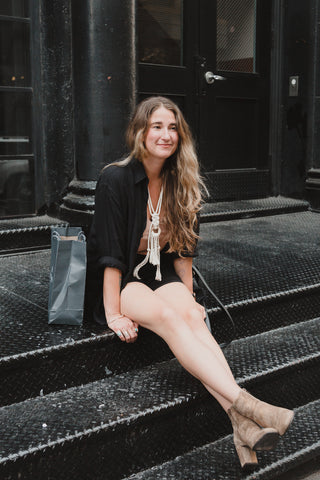 If ever we're in need of artistic inspiration, we can always turn to Emily Katz. Perhaps best known for her macramé practice, the Portland-based creative is also often found in unique destinations around the globe, collaborating on interior design projects, teaching workshops, or creating lifestyle content for brands. Emily attributes sustainability, community, and travel as crucial pillars in all that she takes on. We had the opportunity to speak more with her about these ideas during Emily's recent trip to New York. Today we're sharing the highlights from our meeting in Soho.


Meet Emily
My name is Emily Katz; I am an artist and business owner. I own and run Modern Macramé, where we sell affordable and awesome DIY craft materials, teach workshops around the world, and collaborate with interior designers and companies to create custom large scale macramé installations. I create inspiring content for brands on my Instagram. I am an interior designer, stylist, and collector.
Modern Maker
Modern Macramé started as a small one-woman show in my guest bedroom, and now I employ six inspiring women, as well as support the women who make my rope in Turkey with every single bundle of rope sold.
I learned macramé as a way to connect with my mom after not being in touch for over 20 years. It turns out that we have a lot more than just macramé in common. She is also an incredible business woman and a total inspiration. 

As for teaching or making? I love them differently. I love connecting with people in my workshops, and I love losing myself in the meditation of knotting while creating a custom piece. 


On Sustainable Craft
In the early 2000's I ran my own eponymous sustainable fashion line, and I was working with organic materials like hemp and organic cotton. So I have been considering this thought for over 15 years.

Most of the rope we use is not organic. However, we use sustainable practices to manufacture it. My goal is to create organic cotton rope and craft supplies. As for design, if we choose to spend our money on something, it should be a thing we can't live without. That we truly love. In that case, it might mean that we buy two special things instead of twenty so-so things. Craft plays into that mentality as well.


Portland Pride
My office is less than two miles from my house, and I try to walk to work when I have time. It clears my mind, gives me a fresh start, and keeps me healthy. To be perfectly honest I have been so so busy lately working on my upcoming book (you can preorder here), as well as teaching around the world, making live macramé installations, and more, so I haven't felt the slow lifestyle that Portland is supposed to be all about.

However, I DO get to work at 10 AM and so does the rest of my team. Flexibility is key.

My favorite part of living here is my community. I have friends here who have known me for over 20 years, and they have seen my life and work change and grow, as I have seen them evolve and shift too. It is a wonderful thing to be loved for who you are by your friends. I feel lucky that I have an incredible community around the world. Portland is home, and the world is my playground.


Coclico Woman
There was a store in Portland called Olive Shoes in the early 2000's, and when I had my clothing line, the owner and I did some fun trades. She got a few pieces from my collection, and I got a few amazing pairs of shoes, Coclico included. I still have my first pair from her, one that is similar to the Tecla Clog, but in brown and it had a little tie at the ankle. I still love those shoes!

I love the pair I am wearing for this interview; they are perfect for my casual but striving-to-be-a-little-fancy-always lifestyle. My go-to is a pair of jeans and a tunic top. If it is easy, then I am there. I like rompers and pieces that I can just throw on. I don't spend any time on my hair or makeup in the morning. I am a roll out of bed and be out the door in 10 minutes kind of girl. And the perfect shoes make that mentality a cinch.

Even though I try to be ready in a few minutes, I also love collecting garments, special pieces, and textures. When getting dressed up, I want to feel uniquely styled. It is so much more fun to have my home and wardrobe filled with pieces from travels, items that have a story rather than to have just gone out a bought the newest style.


At Home in the World
I travel with essential oils, and at home, I have a nighttime ritual of self-massage. This always grounds me and gets me feeling cozy and at home, where ever I am. At home, I have been trying to oil pull every morning, which is a wonderful reset for my health. I drink a big glass of water first thing when I wake up, and then swish a spoonful of coconut oil for 20 minutes. Usually, that is when I do my morning Instagram browsing! Hah!
Forever Items
I love that idea of a story disguised as an object...
For me now it is two very important things. My upcoming book, Modern Macramé which is coming out on Ten Speed Press in the Spring, and it is available for preorder now. It has been years in the making. We traveled to four locations around the world to photograph it. We spent over 40 days shooting, and it took an incredible team to make it happen. So I would say this is my "forever item" and one that hopefully will sit on your coffee table, bedside, and bookshelf for generations to come.

The second one is not an object as much as an experience and mission. I have been working for the past seven months with my friend Ray Boyle on a social enterprise that is creating a model program for an inclusive approach to working with refugees worldwide. Our first project is called JAC and is working with Syrian Refugee women in Southern Turkey. You can learn about it here.
My involvement and learning about this has totally changed my life for the better, and I hope it does the same for the people we are committing to support. Every 500 chairs sold create jobs for 15 Syrian women for over four months. It is a small effort, but it makes a huge difference in their lives, and we get to have a beautiful object in our homes that reminds us everyday that how we choose to spend our dollars makes a difference.
Photos by Bridget Badore for Coclico