Emari Traffie Takeover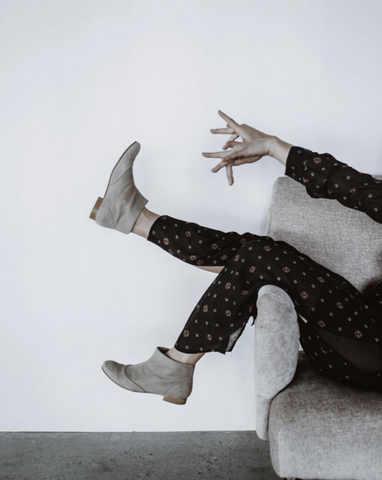 A big thank you to friend of the brand Emari Traffie for spending time with us on Instagram earlier this winter. Its always nice to escape the North East in winter and get a little SoCal perspective. Emari is a freelance photographer by night and Social Media Manager by day. We caught up with her post-holiday for a rundown on what makes this talented millennial tick.
[caption id="attachment_5183" align="aligncenter" width="478"]
Emari wearing our classic, the Isla bootie[/caption]
[read_more]
on life in L.A.   What I love most about L.A. are Hikes in the canyons, the weather obviously, and good live shows (fun fact, I'm a little bit of a giant hip-hop/rap fan and there's a few people who do that here).
[caption id="attachment_5184" align="aligncenter" width="692"]
Photo by Emari Traffie[/caption]
on UNIFORM   I think it's known as the LA staple uniform but it works too well: black jeans, black leather boots (usually the WHIT bootie), and anything from a loose t-shirt of some sort to an oversized button down white blouse. I like to be comfortable yet have an outfit that can easily transition from day to night. 
[caption id="attachment_5173" align="aligncenter" width="480"]
Emari sporting her LA uniform[/caption]
on her guilty PLEASURE   Coffee, I'm a hopeless addict. I usually make my own coffee via pourover but I do have a few favorite shops in LA including Coffee Commissary and G&B Coffee.
[caption id="attachment_5181" align="aligncenter" width="597"]
The perfect pour. Photo by Emari Traffie[/caption]
one thing she doesn't leave home WITHOUT  Well, it is LA, so I'd have to go with sunglasses. I have a guilty obsession with these round ones from The Row and have them in a few colors. The Row 8 tortoiseshell brown ones are my favorite.
[caption id="attachment_5172" align="aligncenter" width="598"]
Emari never leaves the house without her The Row sunglasses.[/caption]
on FOREVER ITEMS  
My grandfather's old letterman jacket. It's a little too big but it's really warm and so classic. They live in South Carolina and he would leave his warm coats at our house for when they visited in the winter and I snagged it. I tried to return but he was so flattered that his grandaughter was wearing his jacket and wouldn't let me give it back. It's mine forever now. Also, a maxi floral 90s vintage dress that I found at the
SoWa Vintage Market
in Boston's South End. I spent $30 on it but it's in great shape and I get so many compliments on it. Also, side note,
Le Labo's Rose 31 perfume
,  I don't ever plan on parting with it.
on BETTER FEWER THINGS
  I want items that will last longer than the trends, both physically and in a style sense—which is why I'm so drawn to
Coclico
. I like clean, minimal pieces for my home. I also tend to look for items that don't really look like anything else I'm seeing around, but still have a classic appeal to them, like the floral 90s maxi dress I was talking about before. And finally, I'm not going to buy something that isn't flattering, so fit and shape are important to me when looking for items to wear.  Sustainability is key for me as well.
[caption id="attachment_5174" align="aligncenter" width="478"]
Well worn Coclico Tecla clog bootie, featured by Emari on Instagram[/caption]
on slow SUNDAYS  
Living and working in Hollywood means my life is pretty fast-paced. I work a 9-6 as a social media/web manager for a commercial production company and then I do photography in my spare time. To slow my living down I almost always give myself Sundays. It's my time wake up slow, make coffee, to go to church in the morning, wander around the farmers market, make myself a quality meal and just relax.
[caption id="attachment_5187" align="aligncenter" width="599"]
Time-out Sunday activities. Pedi at Olive & June[/caption]
on DISCOVERY  Instagram is a huge source of inspiration for me. I wouldn't even have discovered Coclico if it weren't for Instagram. Oh, actually I would have eventually because two weeks ago my roommate went to NYC and she went to your store and told me about it!  I follow a lot of bloggers and photographers on Instagram who are constantly introducing me to my new favorite brands or products. For example, you just interviewed Joradana Nicholson and through that I discovered the Pawpaw brand, I recently bought the ointment at Ali Golden's new store in LA and use it all the time now. [caption id="attachment_5185" align="aligncenter" width="691"]
Sustainable made in Mallorca, photo by Emari Traffie[/caption]
on winter WEEKENDS  If I have the opportunity to get away I would love to spend it at my family's camp  on Lake Winnipesaukee, New Hampshire. We ice fish on the lake, snowmobile around it, play board games by the fire, and sauna of course (my family is of Finnish heritage). For something like that I'm all layered up, which  I never get to do in LA. I love a large scarf like this one from Everlane, the LUNA booties, and I'm obsessed with long coats - I have at least four that I can't wait to wear.
Thanks again Emari! As we are hunkered down in NYC bundled up in our layers and dreaming of spring its nice to be reminded that the winter does hold a certain romance to it.