Adriana Urbina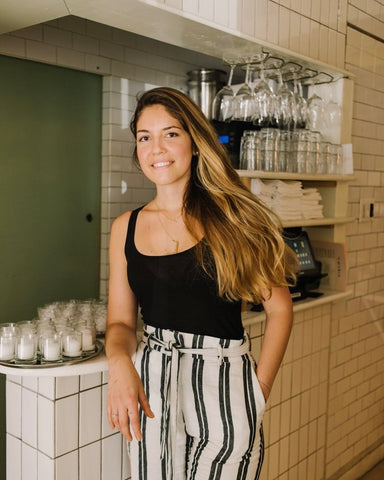 Chef Adriana Urbina is broadening the palette of diners around the world. From Spain to New York City, food has always been the preferred mode in which Adriana expresses herself and connects with others. After years of training, she's now bringing her unique point of view (and zest for life) to Nolita in her role as the Executive Chef at De Maria. The contemporary restaurant is a favorite of ours at Coclico, and we're not surprised to see how quickly it has risen to prominence in the neighborhood since first setting up shop in 2017. Noting the upcoming change in season and De Maria's exciting evolution, there was a lot of ground to cover in our recent visit with Adriana at the restaurant who spoke about conscious cooking and what inspires her outside of the kitchen.


Meet Adriana
I'm Adriana Urbina - I'm the Executive Chef at De Maria!


Conscious Cooking
I really love food, and I love connecting with people through food. I started cooking at a young age, and my style of cooking has changed with every restaurant experience I've had (I spent time in a Michelin-starred kitchen in Spain and in several different kitchens in New York City), but really everything comes back to my home - Venezuela. I love bringing a bit of my home into my dishes. Even when off-duty, I'm exploring, experimenting, and engaging with food! Again, I love it!


De Maria
I've known Steph and Sab (the owners) for a while, and timing was perfect a few months back - it was a natural fit. I was given a real platform here at De Maria to make food that I love, and that I want to share with other people. I'm playing with Venezuelan influence, seasonal produce, and eclectic flavors on my plates. The space is so beautiful, and the people I work with (my sous chefs Maria and Sean in particular) inspire me every day. Any transition in a restaurant is a challenge, of course, but it's been a really great journey as a team and every day is exciting in the restaurant.

We are always thinking of creative ways to use unexpected parts of the animal (we have a Beef Tongue special that is delicious), and I love using veggies in creative ways. Pickled carrot tops - yum.


Flexible Food and Fashion
I'm creative, and I work on the fly in both food and my outfits! I'm pretty much always on my feet and on the go, and I love to play with ingredients in my food, and with different pieces in my closet for my wardrobe. I love plating in unique and beautiful ways too - this artistry also connects to design, I feel. Both are expressions of self, and ways to connect with people.
Summer Splendor
I'm going to experiment more with seasonal colors, just like I experiment with seasonal produce at De Maria.

To be honest - we're always trying new things on our menu! We recipe test and the menus are dictated by what's in season. The fun part is figuring out how best to create something delicious and visually appealing while staying true to who we are.
Adriana's Edit
Styling Her Coclico Shoes -
I am mixing the gorgeous blue with neutrals I feel comfortable in to make a statement, but classic look.
Savory or Sweet -
Why choose when you could have both? Our Yuca Cake with Salted Dulce de Leche is my indulgence - it's a lovely balance of savory and sweet, and pretty much addicting.
Inspiration Outside of the Kitchen -
Family, Venezuela, and other female chefs making their mark on this industry.
Her Palette in Three Words -
Eclectic, bright, and fresh (both in food and in fashion).
Forever Items
My knives are my forever items. In order to create gorgeous cuts of meat, and precise mise en place, you need quality knives. I couldn't live without them!
Photos by Heather Sten for Coclico