Erica Tanov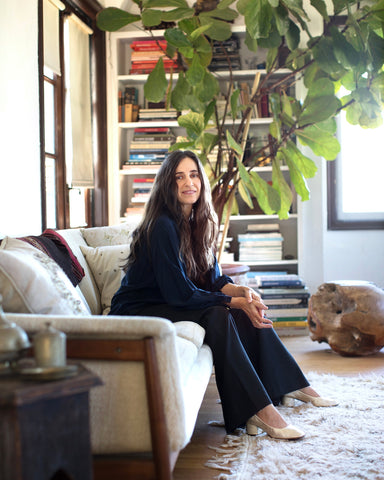 Please click here to enter to win a copy of Design by Nature.
There is an understated, natural elegance to Erica Tanov's work. Most know Erica for her fashion brand, but the California native has slowly expanded her creative reach through her endeavors in homewares, film, and most recently her newly published book, Design by Nature. Conscious design is something that runs deep within Erica's work, and it's also in Coclico's brand DNA. As a result, this mutual appreciation has led to an enduring partnership (Erica has carried our brand in her shops for over five years) and friendship (Jessica, our Retail Director, previously worked with Erica for 20 years before coming to Coclico). Here, we celebrate this cherished kinship with a closer look into Erica's eclectic and inspiring home in Berkeley, California.



Meet Erica
Hi! I'm Erica, the designer, founder, and owner of Erica Tanov – a women's clothing and home goods brand with three retail stores. I studied Fashion Design at Parsons School of Design in New York. After graduating, I worked for a designer for two years then struck out on my own to start my eponymous label in 1990. I moved back to California in 1994 where I continued designing, opened my first retail store, got married to my musician-composer husband and had two kids who are my greatest joy. I've opened a few more stores since and now have one in Berkeley, Marin and, most recently, Los Angeles. I'm enamored by nature and an estate sale fanatic.



Shop Talk
My career began as a clothing designer, yet I have always loved creating beautiful spaces. My collection evolved early on from primarily slips and camisoles to include clothing and then expanded into a full lifestyle concept including home goods. I love creating full experiences, so opening a store seemed to be a natural progression.
Designing meaningful environments to showcase my own collections as well as carefully curating goods from other brands has become equally important and rewarding as designing my collections. Playing with textiles and seeking out unusual finds for my stores is what I love most, but being an independent, small business owner means I spend the majority of time running a business. I continue to stay inspired by exploring new mediums and collaborating with artists and craftsmen, sharing ideas to come up with collaborative projects.



Design by Nature
My book turned out to be quite a personal project. I'm such a visual and tactile person, expressing myself best through designing, making and arranging – not through words, so the actual writing for the book was the most challenging part. But in writing the memoir-like short essays to accompany the photos (by Ngoc Minh Ngo), and recalling the details from my childhood, I realized how important my surroundings are to me. Not just to my work, but how I live my life. Growing up surrounded by nature definitely shaped my life and influenced my work. I wanted to share my appreciation of nature and how its tiniest details can be a source of inspiration. I hoped to impress upon the reader how simply observing one's surroundings and noticing nature's nuances shows us that beauty is everywhere, in so many forms, not just in the grandest gestures.



California Dreaming
Living in California, I'm surrounded by so much natural beauty. I definitely pull inspiration from the intricacies of nature, but more than anything, just being close to nature grounds me which allows me to create from a place of calm.
Coclico Woman
We've carried Coclico in my shops for over five years. I love that they're timeless. I love the quality and attention to detail of Coclico shoes. I like the simplicity of design with a subtle twist – whether it be an interesting heel or stunning color of leather. And of course, the fact that Coclico shoes are so comfortable is a huge plus. My customers appreciate brands with integrity who source materials and produce ethically.

In this story, I am wearing the Elda in champagne. I love how simple, classic and comfortable this shoe is, and I can never resist a little shimmer – metallic gold most definitely being my weakness. This heel can be worn with anything, dressy or casual. It's the perfect shoe!



Erica's Edit
What Erica's home means to her - My home is my playground and sanctuary, filled with things I love and always changing. It closely reflects my fashion style – relaxed, lived-in, layered, quiet luxury. I am a refined hippie; there is nothing pretentious or too perfect.


How Erica's definition of sustainability has evolved - I began designing my collection before 'sustainability' was a topic of discussion. Making things with intention and with as little waste as possible has always been something I've strived for. It's more of a reflex and a deep belief rather than a proclaimed mission.
Other projects Erica has in the works - I'm excited about a metal tile collection I'm working on with Clé Tile, launching this Fall/Winter. I'm also expanding my wallpaper collection, introducing two new patterns in multiple colorways.



Forever Items
The Lola slip is a piece that has existed in my collection from the very beginning. It has become one of my signature styles and is something that can be worn to sleep in, as an underpinning or on its own as a dress. It's timeless.
Photos by Carol Vaziri for Coclico