Coclico Holiday Windows X Hilary Robertson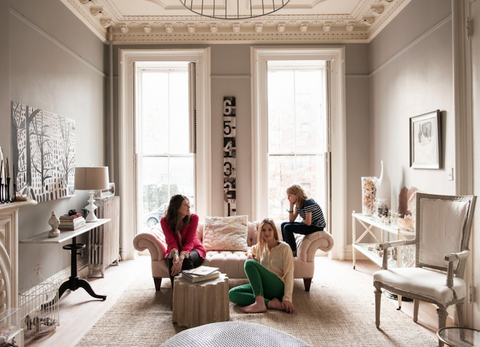 This year we have been lucky enough to have a special holiday window display designed by renowned Interiors Stylist, Hilary Robertson.  Hilary has produced several interiors books, most recently researching and creative directing Brooklyn Interiors, Rizzoli 2016.
JOIN US FOR A HOLIDAY BOOK SIGNING
We're very pleased to announce we'll be having an open-house holiday party on December 17th, from 5-7PM at our Mott Street store where Hilary will be on hand for conversation and signing of all three of her gorgeous books. The perfect gift for the Interior Design obsessed on your holiday shopping list.
THE WINDOWS

For our store she has used a monochrome palette with dramatic effect by mixing different shapes and textures and adding a  touch of shimmery gold.  
HILARY ON HOME AND STYLE
We checked in with Hilary to get some more  insight on her decorating and personal style.
ON HOME    In the city I live in two floors of a brownstone which is decorated in muted shades of grey and dusty pink combined with black and white. I like to call the style Smoke and Mirrors because most of our possessions came from flea markets and antique stores. The parlor floor is quite grand and feminine but the lower floor is more experimental with a white canvas floor cloth in the dining room and my husband's abstract paintings. We just bought a house in the country which is very different, an old school house so that gives me the chance to decorate in a different way,  more minimal and Modern Rustic.
ON PERSONAL STYLE   I do have a uniform which I wear for work most days as my call times on set are often early. I wear wax jeans or leather pants and either navy or black sweaters and always ankle boots of different colours and heights in the Winter. I tend to buy the same things like my big mohair sweater - I have 3 identical ones. I have a lots of different coats because I like to change the top layer. My tastes are very high-low, including Margiela, Scandinavian brands like Hope and Filippa K which fit me well, and I lust after Zero, Maria Cornejo and Celine. In the summer I try to wear colour and I'm mad about red. I always have some red sandals, or silver sandals which go with everything. My summer clothes are more boho and I almost always wear a sun hat by Lola or a Stetson or my favorite canvas hat from Malia Mills.
ON FREE TIME   In my free time I like lying down and falling down the Pinterest rabbit hole. But I love to listen to British radio station, BBC Radio 4 and watching TCM. I travel to Europe as much as possible and wandering around cities discovering  new design shops and flea markets. My job is my hobby too; I love taking photos and seeing exhibitions.