Coclico Chats Green Living with Fashion Model Renee Peters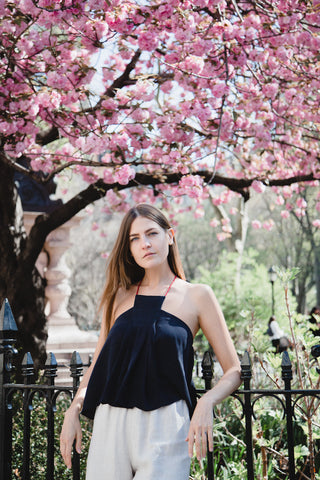 New York-based model, blogger and activist Renee Peters is using fashion as a medium to start important conversations around conscious living. From plant-based food guides to penning personal essays on ethical style, her blog
Model4greenLiving
serves as an actionable resource for those looking to realistically implement sustainable habits. As a rising voice in the fashion industry, it's clear that "going green" is more than a mission statement as it extends to every facet of Renee's enriching life. In honor of Earth Day and to celebrate Renee's admirable efforts we spent a morning together in Madison Square Park taking in all of the beauty the urban jungle has to offer.
Model Citizen
My name is Renee Peters, and I am a lifelong animal lover and nature enthusiast. I am also a fashion model in NYC and have been working all over the world for the past six years. I try to give back to the planet and the natural world, by using my platform as a model to reshape the way people think about the environment and their role in protecting it. I launched my blog,
Model4greenLiving
, to provide practical tips and everyday actions that encourage mindful, sustainable living. I try to be a positive example for everyone. For those who care about the environment but aren't sure what they can do to help, and for those who have never considered their environmental impact. I love using fashion to inspire meaningful conversations around what we all can do to give back... for the environment and each other.
Off Duty Adventures
I love hiking and camping, and living in NYC gives me access to the Catskill mountains upstate about an hour away. I am looking forward to going upstate and camping again now that it is getting warmer. The spring, summer, and fall are my favorite seasons in NY because I can be outside and enjoy all of the nature that is around us. Even if I stay in the city, there are so many amazing parks that I often hang out in on my free time and enjoy the sunshine and birds.
On Speaking Up
I first realized the negative impact the fashion industry has on the environment a few years ago after watching the documentary
True Cost
. I had already changed to a plant-based diet in 2010, to lessen the environmental impact I made with my food choices. Before seeing that documentary, however, I hadn't made the same connection with regards to how I dressed. I learned that the fashion industry is one of the biggest polluters and carbon emitters in the world. In fact, its carbon footprint is so far reaching that we haven't been able to accurately quantify its impacts as a whole.
I gave up fast-fashion and set out to only buy second-hand or from ethical, sustainable brands. I dress in sustainable clothing to show my social media following, and fashion industry peers, that sustainable fashion is fun and chic, and that it's an easy way to help reduce our carbon footprint. I now know that style is better when it is sustainable because the pieces you use to create you
r l
ook will last longer and also be more original, without harming the world in the process.
Green Living
I live by the motto, "Buy less, choose well, and make it last." We are fortunate to have such a broad range of sustainable products and brands available. So for me, it is about making the best choice from the options I have. Living a sustainable lifestyle is a constant process. Interests and needs change throughout our lives so trying to adapt from one way of life to another overnight isn't the best option. I have been successful at implementing sustainability in my life because it is something that I build upon every day. Nothing has been overnight for me. The lifestyle I have created has been at least a six-year journey, and it doesn't seem overwhelming because it is something I approach one decision at a time.
Slowly but surely, all of the choices I have made have become more and more green, and subsequently so has my life. I have discovered that small, daily actions can add up to be a massive reduction in our carbon footprint. To my surprise, by supporting my fellow humans and the planet by living this way, I have found out more about myself than I ever could have imagined. Giving up fast-fashion has been particularly eye-opening for me. I would love it if your readers took the time to find out why, by checking out my article
"Why giving up fast fashion is one of the best things I've done."
Earth Day, Every Day
I am championing everyone to get involved in the
Climate March on Washington
April 29th and also to participate in
Fashion Revolution Week
April 24-30th. As far as the Coclico community, I would love it if they shared just how great sustainable clothing alternatives are and how great they look and feel in them. Earth Day is about celebrating our planet and educating one another on the importance of its protection. I use sustainable style to communicate my passion for the environment, but if fashion isn't your thing, get involved in your own way. Earth Day is a great opportunity for creativity.
Sartorial Optimism
Fashion has the power to tell such a great story, and as industry insiders, we have a responsibility to make sure that story is a positive one. We shape the way the world thinks about dressing itself and set global trends. That is a tremendous power to have. I think it is up to us to change the way people think about living a conscious lifestyle. Modern sustainable fashion is just as trendy and beautiful as anything you might find in
Vogue
or
W
magazine, but it also has a much richer story behind it. I think fashion publications would do better to feature more of it, as their content would be deeper overall.
Being a successful company doesn't have to come at the expense of individuals and the environment. As one of the largest contributors to global pollution, the fashion industry has the power to make an enormous positive impact by cleaning up its practices. If the fashion industry becomes sustainable and maintains its revenue or even becomes more profitable over time, other manufacturing sectors will follow suit.
Forever Items
I have quite a few plants at my apartment now, and I have been inspired by my mom to try and keep them forever. She has plants that her mom gave to her, and are now 40 plus years old. I would love to help my plants grow and thrive for my whole life, and eventually pass them down too.
Photos by Bridget Badore for Coclico