Christine Alcalay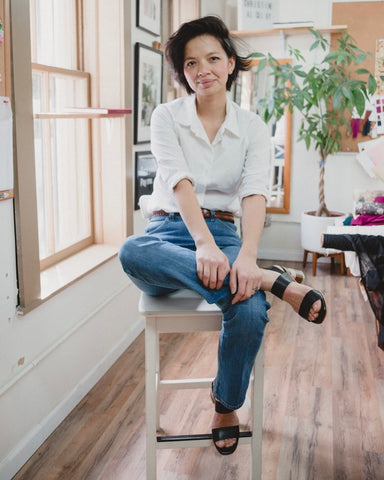 If we're allowed to pick favorites Christine Alcalay is certainly one of them. As a designer and a person shes top of the heap. Christine's steadfast mission of creating connections in her work is palpable, and unsurprising if you look at the success of her three fashion businesses KIWI, fig., and her namesake apparel brand. There is a lightness to her which we were lucky enough to experience firsthand when meeting at her bustling Brooklyn atelier. While dancing in between racks of garment bags, fabric rolls, and equally lively team members, Christine reflected on fashion's impact on her life, and the importance of people over things. She also tried on our Bask Sandal for size and showed us a sneak peek of her upcoming lookbook featuring a few of Coclico's beloved styles. 



Meet Christine
I am so honored to be amongst the group of inspiring women in the Coclico Woman stories. As an introduction, I'm Christine Alcalay, known to my three kids as Mom, known to most others as the owner of KIWI (women's shop), fig. (men's shop), and designer of my namesake collection. Love drives me. The love of my family, work, and life.
Fashion Through the Ages
Fashion has always been in my life. From a young age, I was thrown into its seams because it was what my mother did to ensure a future for us in a new country after leaving Vietnam. I grew up with fashion as if it were a family member, constant and unrelenting. We ate, slept and lived with heaps of clothing around us. My relationship with fashion has changed through the years as I realized that the garments that were made not only fed us but they clothed us and secured our futures. The clothes that we wear can change how we feel and thus change the way we live in our world. I set out to study and work in fashion so that I can give people the clothes they emotionally and physically need to be the best selves in whatever capacity they are in. My namesake collection is inspired by iconic women of past and present and designed for the iconic women of present and future. I believe that fashion can be a tool and transformative for the person who wears it. I make clothing for the woman who has a story to tell.
She's the woman that walks into the room and everyone wonders who she is. Standing tall, strong and graceful, she's generous with her smile, and there is a connectedness to her gaze. She looks for the meaning in everything she does and does not take for granted the path that she walks. She understands that we all make an imprint on this world the way the world and her past has made an imprint on her. That bold and unforgettable woman.
My relationship to clothing has changed because instead of telling the story of some made up person, I have tapped into my soul and journey as a woman. I've realized that I have a story to tell and I tell it through clothing.
Shop Girl
It is extremely challenging to manage all three businesses. I've had to really prioritize and limit my responsibilities in each business. I spend a lot of time trying to figure out where my strengths are, what the boundaries are and how I can use my time in the most efficient and effective way possible. As the businesses grow, the most challenging part of it is finding the right people to grow with you.
The businesses are ever-changing. For me, it is about having a plan, but also having patience and open-mindedness, because nine out of ten times, a day never goes as planned. I LOVE everything I do, and I'm used to doing it all but to grow I am constantly searching for likeminded people to help me narrate that story and grow with us. I always ask myself, when stressed, will it matter in five years? When faced with everyday problems, I ask myself if I am the only person who can do this? That is half the battle sometimes. As a small business, I think we are used to handling everything on our own but as a company grows, and in my case three companies, I have to think differently and react differently, and that in itself is learning.
Coclico Woman
I love Coclico because it has all of the elements I look for in a shoe: color, comfort, style, and quality. I am very drawn to color and shoes that stand out just enough. I love that Coclico has an aesthetic that is transcendent to time. I feel the same way about my clothes in the shop and the clothes I design. I can immediately pair every style of Coclico to the girl and outfit that it can be worn with. They have a life of their own and feels a little like you've known them forever. I love shoes that have a soul; pun intended! We don't carry a ton of shoes at KIWI, but I love how Coclico is the finishing touch to every season, completing the story.
A Sartorial Story
I'm hoping my story as the daughter of a garment factory worker pursuing a dream of creating empowered, beautiful clothing for a band of new leaders will hopefully change our world and our industry one woman at a time. Everything I design is made, designed, and produced in NYC. My mission is to help the NYC garment industry thrive. As the industry becomes larger and as the market becomes larger with more things to buy and the abundance of choice, I do feel like it is the human connection that will be the deciding factor. I love that I know every person I work with, whether it is in the shops, at showrooms, at fabric mills, factories and beyond. We are here for that, aren't we? Here to share our stories and connect with others? It is not about things. For me, it has never been about things. It has always been about connections. I believe a customer feels that.
Forever Items
All the items I design are made to be forever items. If I had to pick one, however, it would be my pleated cuff trouser. I sought out to design the perfect pleated trouser a few seasons ago, and every season I have tweaked it, but the original pattern is what I want to wear ALL of the time. I've decided that for upcoming seasons it needs to be on the line because I personally need it in every fabrication.
Photos by Bridget Badore for Coclico