Bianca Valle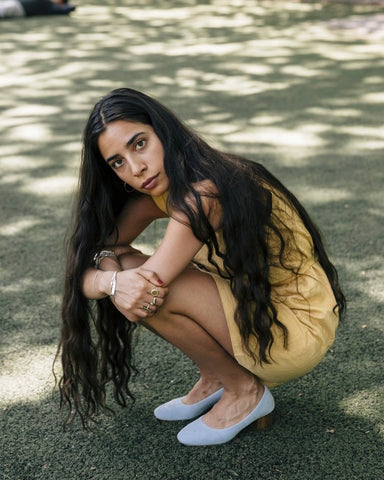 Life is a blank canvas for Bianca Valle, and she's making her mark in a number of ways on New York's creative scene. The jill of many trades attributes art, writing, and modeling as just a few of her passions and professions. And although her artistic point of view varies between mediums, Bianca herself is instantly recognizable with striking facial features, distinct sartorial traits (which include a signature layer of delicately chaotic jewelry - and now our Epic Heel in Sky Blue Suede), and most importantly, infectiously happy energy. Earlier in the month, Bianca eagerly invited us for a walk around Chinatown to bask in the sunlight and visit her new apartment. In this interview, she speaks more about writing, supporting women, and summer in New York.


Meet Bianca
I am a freelance creative with a focus on beauty writing and painting. I am also a model and advocate for real girl models.


Jill of All Trades
I am very multifaceted which keeps my life exciting. I have never been one to pigeonhole myself and think that I could only pursue one thing. This being said, I let myself explore whatever I like whenever I like, whether it be wellness or fine art or fashion. They all intersect because I want them to. I blend it all together so I can keep doing what I love.


The Art of Beauty
I love writing about beauty to help others learn a thing or two about how they can aid their skin to reach its healthiest point. It is a difficult industry to make 100% sustainable; however, more and more brands are trying to use less packaging and even make some of their packaging reusable. Also, many brands are popping up that are 100% organic which is better for the environment and our skin!


Coclico Woman
Supporting women is so important because many females are so competitive towards each other. Why?! This must stop, or at least slow. We are all beautiful and talented and should lift each other up. The world is already hard enough on us.


Bianca's Edit
I love mules and simple sandals. A nude-colored shoe is also a must. I will also be using and abusing Avene's cold cream on my face. It is so hydrating and leaves you looking mega dewy. It's the best!


Forever Items
My jewelry no doubt. It has taken me years to perfect my collection, but I think I am almost at my perfect stack of layered necklaces. It's taken hard-earned dough and patience.


Summer in the City
This summer you will see me running outside in the fresh air, under the sun. All winter long I am forced to stay inside a gym when I feel like running. Now, I literally spring out of bed to feel the wind on my face while I run.
Photos by Lauren Damaskinos for Coclico