Wing Yau of WWAKE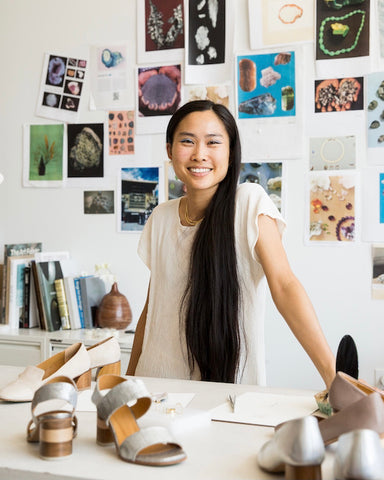 As longtime admirers of Wing Yau's modern design ethos, we visited the designer at WWAKE's Greenpoint headquarters where she stacked and styled her rings and took a spin around the studio in a few of Coclico's tried-and-true styles. Enjoy this dose of style inspiration and moments from our visit featuring musings from Wing who discussed modern minimalism, sustainable design, and forever items.
Meet Wing
I'm Wing Yau, the designer and owner behind WWAKE — a fine jewelry brand based in Brooklyn, New York. Hailing from a background in sculpture, I started my jewelry line of detailed, otherworldly jewels with the intention of sharing my love for simple materials. 
Wearing our Bask Sandal in Silver Cut Leather with WWAKE's Limited Edition Small Nestled Green Sapphires Ring
Style Notes
My style is effortless, minimal, and textured. Most days I wear a uniform — vintage denim and a simple tank with either interesting textures or cut. Or vintage two-piece sets — usually with delicate pleats locked into the fabric, like this outfit we shot together. Accessories are where I like to have fun: I like to mix colors and sculptural weights against each other, as you can see with these rings. It's the details that make someone look twice. 
Wearing our with Narwhal Heel in Silver Metallic Leather with WWAKE's Organic Diamond Triangle Ring
Conscious Collaboration
We all have to work together. Being a 100% sustainable brand is impossible — sustainability is a holistic lifestyle marked by a multitude of decisions of every aspect of your life. In aligning with other brands like Coclico, we connect some of the dots within this lifestyle. It's a really interesting conversation: Where our ethos may differ, can be areas of growth for each of us — and this opens up this discussion for others to participate in without fear of judgment. Collaboration is key.
Wearing our Epic Heel in Grey Mist Leather with WWAKE's Medium Vista Ring
Modern Minimalism
It's about needing less. Our mission is to create pieces that people feel a lifelong kinship with. That replaces trend purchases with timeless heirlooms. I find that the more meaning your life builds for you, the less excess stuff I actually desire in my life. It's a frame of mind, I guess!
Wearing our Evert Heel with WWAKE's Large Vertical Emerald Cut Monolith Ring
Forever Items
There is a single wool jacket that my grandmother was photographed wearing throughout the 1950s — it was hand-tailored for her after WWII, and she moved from China to Hong Kong, to Japan, and then to San Francisco wearing this jacket. It's still in mint condition. This piece has since been passed on to me, and when I see photos of her in it, I know I'm wearing a slice of my family history. There aren't a lot of objects that stay with us for generations. As a designer, I can only hope these will be the type of stories my jewelry will have too.
Photos by Phoebe Cheong for Coclico