Sophia Roe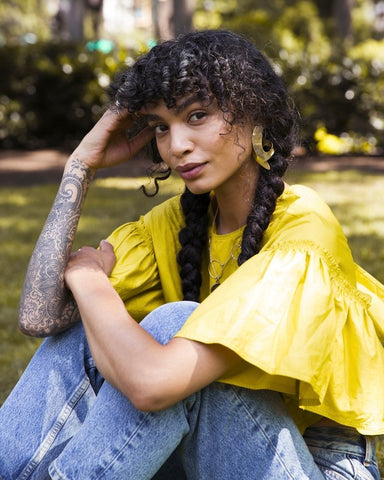 Living well does not have a uniform definition, and women like Sophia Roe are committed to making wellness (which can seem like a daunting practice) more inclusive. While it's difficult to describe Sophia in a few words, we can say with absolute certainty is that there's an unparalleled level of thoughtfulness to her work. Whether she's curating the menu for a catering job or collaborating with a beauty brand, Sophia fully embraces any project she takes with commitment and humility. Her careful attention to detail left a profound impact on us as we joined the tastemaker for a morning market run in Union Square. She wore our Epic Heel for the occasion, showed us her culinary essentials, and spoke about sustainable living and fashion.



Meet Sophia
I'm Sophia, a chef, beauty, and soundness advocate! I investigate the connection between food and feelings, with an extreme focus on empowerment, encouragement, and overcoming traumas that may set us back on our own individual journey.



Living Well
I was one of those SUPER extreme people at the very beginning of my wellness journey — I remember trying so many different diets, and routines. I remember only eating watermelon for two weeks, only bananas for a month, and doing crazy water fasts. That stuff honestly made me feel crappy in a lot of ways mentally. Once you get your mental state all screwed up, the physical and emotional states are soon to follow.

Now I am sure to always practice balance. That is what works time and time again. Every single person has a different body with different needs and different genes. I think anything too extreme is bound to end badly when it comes to your body. A balanced body is a happy body indeed.



Open Book
I think true wellness can only really be sought after if you're coming for it from an honest and super open place. I mean, sure you can drink smoothies every day, go on juice cleanses, and make sure to meditate daily, but does that truly mean you're living you're most well existence? I think tackling the icky stuff, the hard-to-talk-about stuff, the uncomfy stuff, etc. is where you'll find your true wellness potential.

I am a human, I have made plenty of mistakes, slipped up on my workout regimen, or eaten something that maybe I shouldn't have, and that MAKES ME HUMAN! Being human is also part of the wellness experience. The "PERFECTION" costume that wellness wears really pisses me off. I tell my stories in hopes that others understand that they are not alone in their sorrow or suffering. Hard times are normal, and can also be part of the wellness experience. I teach that wellness is a journey, it is never ever a destination.



On Slow Style
Once I learned that the clothing industry was one of the top three highest contributors to pollution in the world, that absolutely rang in my ear. I'm super conscious about all my life decisions when it comes to impacting the earth. I often think about all the energy, resources, and labor it takes to make clothing. It's something that we don't think of immediately when it comes to fashion — but even the choices we make regarding the clothing we wear can have a negative impact on the planet.



Conscious Cooking
When I first started my career in 2008, it was all the rage to use ingredients that came from far away — there was a sort of "luxury" quality there. Fast forward to now, and it's all about local, regional, and farm-to-table (thank goodness). I became OBSESSED with the cultivating, farming, and harvesting aspect of food shortly after the start of my culinary career. Seeing all the work it takes to grow food, but also the high payoff of eating with little to no negative impact (no carbon footprint, no environmental stress, contributing to local farmers and economy) — all of these things play a huge role in how I strive every day to live as consciously as possible, in all aspects of my life.



Sophia's Edit
The most sustainable meal Sophia has made - Any farm meal! There is nothing like going to a farm, picking all your seasonable produce yourself, and cooking it yourself! I recently stayed at an Airbnb that was located on a 27-acre farm. There is no better feeling than walking into a farm, and letting whatever is ready to be eaten inspire you.

Something that matters to Sophia right now - This is a super hard question because SO MANY THINGS MATTER to me! Namely people and the planet.

Why Coclico is an important part of Sophia's wardrobe - I mean they're obviously BEAUTIFUL shoes, and the fact that they're as ethically and as consciously made as possible is a cherry on top!



Forever Items
I'd have to say a simple sterling silver ring my grandmother gave me. It's the most simple ring you've ever seen, but I've had it since I was 12. It's been part of every move, every job, every struggle or triumph, every jewelry box, etc. Oh, if that ring could talk!
Photos by Lauren Damaskinos for Coclico