A Few Doors Down: Meet Maya Jankelowitz of Jack's wife Freda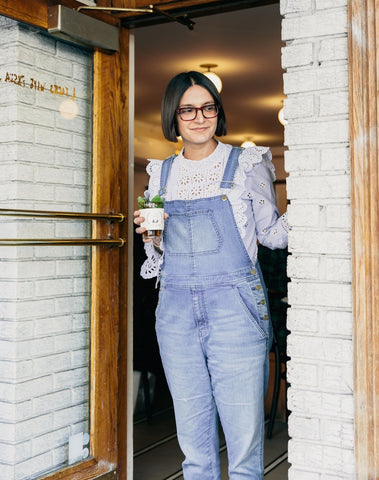 A few doors down and a couple of streets over from our Mott St. flagship lies Jack's wife Freda. Known as one of the neighborhood's staple eateries, we often find ourselves standing patiently (and with an appetite the size of Soho itself!) within the crowds who are hoping to snag a seat or two inside the tiny but welcoming bistro. Yet the mouthwatering scents and beautifully styled American-Mediterranean dishes are not the only draw. At the forefront of it all are the restaurant's charismatic co-owners (and adorable husband and wife team) Dean and Maya Jankelowitz. We happily visited Maya on a bright Spring afternoon who divulged her talent for food and love of family over a refreshing glass of Nana's Tea.
DEAN'S WIFE MAYA
I'm Maya from Jack's wife Freda! Food is the center of our life, breaking bread, being around and sitting with the people you love.
ON SLOW LIVING IN A FAST CITY
Slow living means being present! Especially in the restaurant world where things move super fast and there is always a lot going on... we like to remind and teach to be the calm within the chaos.
NOTES ON NEW YORK
The city is always changing. We embrace what's happening around us and go with it. The best part about being a true New Yorker is that in every neighborhood you have a local place - and we like to think of Jack's wife Freda as your local and reliable all day cafe. Whether it's a snowstorm, blizzard or Christmas - we are always there!
ON SOHO AND STYLE
Downtown NYC is the best place to dress up. Coclico is in the heart of that… the shop is on my favorite block in Nolita.
AN OBJECT SHE RETURNS TO
I think mine has been a piece of luggage that our friend Doctor Dave gave us for our wedding. The story was that it inspired us to dream of travel and manifested itself into our "third wheel" and came with us wherever we went!
MAINTAINING INTEGRITY
It's essential. You have to find your identity and stick with your mission statement of who you are all the time.
Photos by Daniela Spector for Coclico