Tracy Marsh Hoffman
Anna Kadinoff
October 08, 2021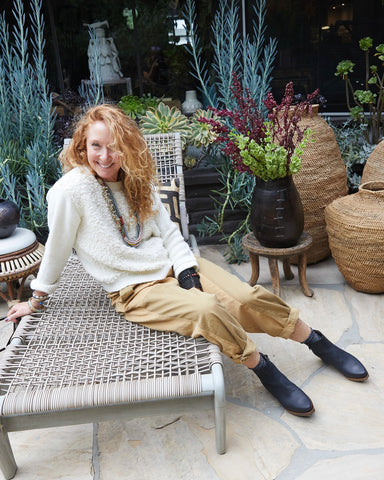 If you had to sum up your life, how would you tell your story? While it's easy to get caught up in the repetition of quotidien life and the cycle of the work-home, rinse and repeat, it's important to recognize that how we spend our time pales in comparison to the connections we make along the way. For self-professed creative and entrepreneur Tracy Marsh Hoffman, daily life consists of making these connections, and using them to help others "craft and amplify their truly authentic stories." Between her LA-based creative agency HDF.LA and her passion project boutique, The Wanderlane — a conscious brand that curates ethically sourced African crafts and furniture — Tracy's world is anything but small. In this interview, Tracy tells her own story, from her "crazy" showbiz upbringing, to her world travels and tequila drinking, all the while sporting her Coclico favourites.


Staff writer Anna Kadinoff.

Who is Tracy Marsh Hoffman?
Who is Tracy Marsh Hoffman? Yikes. Where to begin? Well, I am a mixed bag of tricks, that's for sure, and I am 100% a product of my environment and upbringing, as well as all of the other crazy experiences and forced growth life throws at you. I was born and raised by a super loving and "crazy" showbiz family in Beverly Hills in the 70's and 80's. Sammy Davis Jr. was my godfather… that about says it all right there. How much time do you really have? ☺
Feel free to label me all you want – daughter, sister, best friend, creative soul, art director, producer, explorer, adventure seeker, ginger, taskmaster, entrepreneur, fortunate wife of Michael, and mom of two awesome kids – Raya, 19 (a sophomore at Parsons in NYC) and Simon, 15 (a sophomore in high school, living at home in his man cave).

As the co-founder of LA-based creative agency HDF.LA, how do you approach a new campaign? According to your website, "authenticity and emotional connection are key to creating and maintaining lasting relationships with consumers and audiences." How do you create these connections?
It is not unlike any "real and personal" relationship building. What is it that you want to express about yourself, how do you connect, what is truly important to you, what do you desire, what makes you special or unique or magical… What is your story? And of course, why should we invest time, money, heart, or energy in/with you? We dig in and help the brands we work with craft and amplify their truly authentic stories, building off of those ideals and then we aim to deliver on that promise season after season, in creative, dynamic ways, and on multiple platforms.

The Wanderlane: the backstory
Our advertising adventures have taken my business partner Ian and I to many far-flung, exotic, and wonderful places. On these journeys, we have always sought out local artisan-made crafts and loved every minute of those moments, meeting these makers (whether it be in a souk in Marrakech or visiting a ceramicist tucked away in his mountain studio in Santorini ) and experiencing their artistry in an intimate and tactile way.
We developed The Wanderlane as a way to give back to these wonderful artisans and do what we love to do – travel, dive into local art and culture, share fascinating stories, and give back. The dream is to create a conscious brand that gives back to these creative communities by curating their crafts in a modern way and showcasing their products and collectives to a wider audience. It is critically important to us that all of our Wanderlane items are fair-trade and ethically sourced.

The pleasure of bringing these pieces back home inspired us as well, honouring centuries old traditions and enjoying these functional art pieces in a thoroughly modern way with our friends and families. Every piece has special energy, the story of the maker, the region, and the experience.



Why Africa?
We started with Africa for many reasons. The incredible craft is there in abundance, but also my partners, Ian and his brother John (a fashion designer) are South African and have deep roots and connections to Africa. Unfortunately, Covid put a halt to many of our startup business plans, but hopefully soon we can get back to traveling and dreaming up our next collection of beautiful handmade treasures, from other countries and makers.



At Coclico, we often say that "A shoe is a story disguised as an object." What story are you hoping to tell with the African furniture and crafts sold at The Wanderlane?
There are sooo many stories! Each and every piece is handmade with great skill, deep cultural tradition … and creative magic. We want everyone that visits our site to enjoy not only the intrinsic beauty of the object, but the story of the craft, expressed through multiple generations and infused by the hands of the maker.

Can you shine a spotlight on the last person who inspired you?
I am inspired constantly on a daily basis, not only by the people in my life that I love and respect for their heart, tenacity, passion, spirit and ability to love unconditionally, but by the power of the natural world that keeps on delivering such overwhelming beauty despite our recklessness.
Personal Style
My personal style is pretty straightforward yet eclectic. My go-to look is vintage Levis, a great worn tee or button-up shirt, loads of accessories (mostly from my travels, my mother Molly's collection, and always a few special pieces from my husband, Michael), and a cool shoe. I love that Coclico is effortlessly stylish with a twist. For business meetings, I like to step it up with a strong elevated designer layer, whether it be a chic blazer or statement coat.
We've gotten to see you in a variety of styles from our current collection, from our favourite flats to our classic clog boots. How do you plan to style your Coclico picks this season?
In my typical fashion… with vintage Levis, a well worn tee, beloved crew neck sweatshirt or sweater, and loads of accessories.

Do you have any favourite fall rituals to share? What does fall on the west coast look like?
We love it when we get a hint of "weather" here in L.A. in the fall. Subtle for sure, but welcomed nonetheless. We live in Benedict Canyon, so for us, fall is all about getting cozy on the couch by the fire.

What was the most recent thing you discovered that you just had to tell someone all about?
You can buy Casamigos Reposado at CostCo for under 40 bucks – LOL!

Bonus: Tell us about your guilty pleasure.
Casamigos Reposado – obvi ☺