THE ORO & OOPSY
Diana Haber
July 07, 2021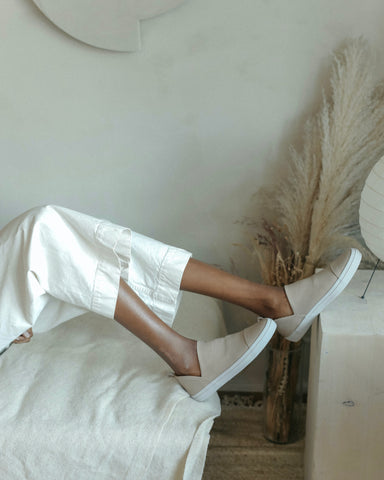 After a full year of dreaming, designing, sourcing, testing, tweaking, then resourcing and testing and tweaking again and again, we are absolutely delighted to be able to introduce Coclico's very first vulcanized shoes! Call them sneakers, call them trainers, call them what you will - the Oro Pull-On and Oopsy High-Tops are infused with Coclico's signature detail-driven, modern minimalism. Far from an oxymoron, striking simplicity requires attention to even the smallest of details. We took our commitment to good design and traditional craftsmanship and added a triple dose of comfort. The results speak for themselves.
The Coclico minimalist sneaker was born out of a love of easy play. Unlike the statement sneaker, we're low key and let our supple, buttery leathers be the main feature. Coclico's signature colour palette of softer tones and "uncolours" show up in the uppers and bumpers alike. With our vegetable tanned linings and covered footbed, the foot stays cool and comfortable. The toe shape is a delicious almond with some generosity in the ball area to keep it on track.
Behind the Shoe
We thought we would take you behind the scenes and reveal a bit about our creation process, from concept to final product. Like every style, the process starts with a conversation about what we, the women who make up Coclico, feel we need from the upcoming collection. An uncomplicated but luxurious ease was very much on our minds as we went into the season, and thus we determined that for the first time in 21 years we'd dream into existence two Coclico signature sneakers.
First, we have sketch review and debate the endless possibilities. Non-negotiables were that the sneakers be unconventional for the category, have clean lines, and a contemporary sleek aesthetic. Lisa presented 4 ideas for our slip-on:
We unanimously selected the third, and named her "Oro," Spanish for gold. We wanted to utilize our custom stretch leather, adding yet another layer of extreme ease to the shoe. 
Lisa, our designer, jokes that "a sketch is worth a thousand steps." A thousand is an understatement. Taking a simple line drawing to a sample, and then to a producible product, involves more steps, time, and love that we care to count! 
After an initial deep conversation with our patternmaker, we begin to fill in the details and dimensions. From the initial pattern, and subsequent corrections for fit and appearance, the Oro was prototyped and then resampled over a dozen times before it met our expectations. Challenges were finding a printer who could create our exact pantone colors for the sole, determining the shape of the bumper, exacting the size of each stitch, and fitting the shape of the footbed. We made 5 samples to perfect the balance of the stretch in the leather so the shoe would fit like a glove, yet could be pulled on with ease. 
In the Making
To the outside observer, sneakers might not seem like a new venture for Coclico. After all, we make shoes. But in actuality, the fact that we are specialists is exactly what make these such a big deal. To make a truly great pair of trainers required vulcanization, a specialty technique. And like with our highly-skilled principal factory, we had to find a small batch producer that valued quality, attention to detail, and shared our love for pushing the boundaries. And of course, local to our Spanish base! Thankfully, we found a solid match.
The Oopsy High-Top
The companion high-top is not to be out done. The Oopsy features the Coclico signature laser-embossed infinity arches as a reminder that we are always in transition, moving through our lives and opportunities with grace and strength. 
The final touch on every pair is a soft teal sole, uniquely ours, and a little offering of beauty to the ground we walk on.