SHAWNELLE PRESTIDGE
Diana Haber
April 13, 2021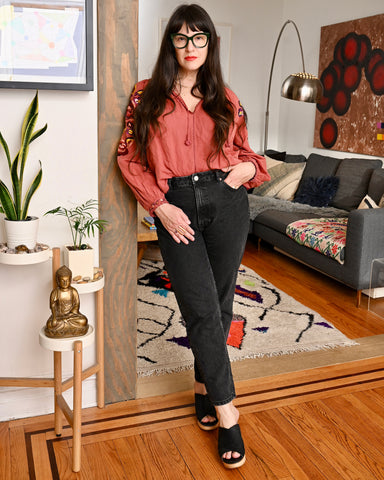 As part of an Earth Day initiative to raise funds for Earth Justice and 350.org, we teamed up with a few friends who share our concern over climate change and take precautions to tread lightly for a small carbon footprint. Today on the Journal: Sandra, Coclico's founder, chats with one such friend, Shawnelle Prestidge, of Prestidge Beaute´. Shawnelle and Sandra first met a decade ago at a new mothers group in Brooklyn, NY.  Initially bonding over the experience of motherhood, the two quickly discovered they had much in common. Shawnelle, a makeup artist with clients like Jane Fonda, hadn't yet launched her line Prestidge Beaute´. It is now a go-to for hydrating organic products for many, including Sandra. In this friendly chat, Shawnelle shares nuggets about her business ventures, personal style, and family.  
Life Motto
I try to remind myself to look for the nuggets of joy in every day...if you persist, you will always find them.
You started your career as a successful makeup artist, tell me about how that evolved into starting Prestidge Beaute´.
When I was pregnant with my daughter, I started having pings of wanting to create a serum, but once my daughter had arrived, that desire just seemed fleeting...it wasn't until my husband had experienced what seemed to be a miraculous recovery - after a life-altering accident, that I felt pulled. Suddenly the idea poured out of me to make products that were akin to what it felt like to be held by the village of amazing humans whose prayers and divine energy brought forth this power to heal. What we experienced as a family is what I felt inspired to create to give back to the world in the form of healing sustenance for your skin. I had gotten my Reiki 1 & 2 certifications to help with my husbands healing process and decided that I would charge every batch of products that I made with it's healing energy and symbols.
We're there many trials and errors along the way? Any advice for women just starting out on an entrepreneurial path?
Well, for this particular process, it strangely only took me 3 revisions of each product to come up with the winning formulations that I use to this day. For anyone starting out, I'd say just follow your gut, your instincts will help guide you...be true to and patient with yourself, and do your due diligence. You'll find your way!
You have a new glamping project with your husband, it is such a fun passion to pursue. What is the story behind it?
So much fun...well it started (like with so many people) at the onset of the pandemic. We were escaping to my uncle-in-law's farm and had set up our 13ft canvas bell tent (that we had gotten the year prior with a similar notion in mind). It stayed up, and with each passing visit, this idea of setting up glamping sites started to spread and finally took hold of Bryan's uncle. Once he was hooked, the work began...Bryan, his mom Ruthi, his brother Clint, and Uncle Baird all started to flush out plans for the 75 acre farm. Where I come in, is with the decor and marketing (and a host of ideas and suggestions - wanted or otherwise) There is still much to be done, but it looks like there's an interested Pre-wedding party looking to rent out the available Glamping tents and sites to pitch their own tents. So that's promising!
Personal Style
I would say my style is luxe utilitarian...I'm either on set or working from home, and it's imperative that I am comfortable. I think comfort is a true luxury and one that hasn't always been aligned with "fashion" until more recently.
This season you are wearing our Crown Sandal, what attracted you to them and how do you plan to style them? I should note, you are one of the first women to own Coclico in a size 42! 
I love mid century lines and the low heel design. They feel modern yet timeless and are so comfy. I'll wear them with jeans, dresses, caftans and joggers. I am over-the-moon that you have shoes that fit me now! Yes, it can be difficult to find shoes in my size, but luckily with chic niche fashion brands, they keep model sizes in mind...and many a glamazon have large feet.
Can you believe we met a decade ago at a new Brooklyn mothers group?! They grow up so fast. Any good listening suggestions for the school run that both you and Marlow agree on?
Yes, we met when are not so littles were but wee babes in arms. Marlow and I like to go listen to "Wait Wait Don't Tell Me" on NPR... we crack up and she gets to learn more about current events and politics in a fun and hilarious way. Marlow is really into Billie Eilish and Sia these days and would have you believe that she doesn't like all the great classic rock and soul that was drilled into her, but we still totally love to belt out some Bohemian Rhapsody or Space Oddity or Papa Was a Rolling Stone whenever it might grace us.