LOAN CHABANOL
Anna Kadinoff
April 15, 2021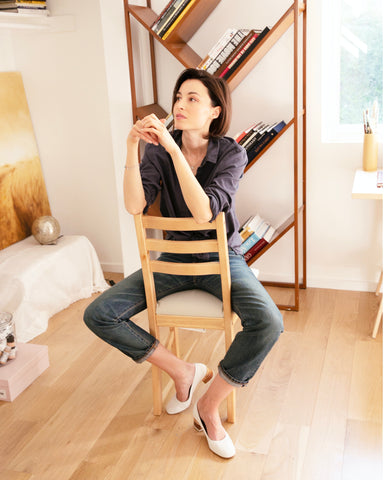 We're pleased to introduce French-born painter, author, and actress Loan Chabanol, a triple-threat creative for whom life seems to be in a near-constant state of metamorphosis. While Loan's pursuits have led her from magazine covers to the big screen, this fashion maven wears her glamorous lifestyle with an air of effortless elegance. Creativity is her language, a channel through which she tells her story. We find her today at the start of a new chapter, as she transforms once again to embrace a new medium. In this interview, Loan speaks to the relationship between creativity and space, her passion for personal and artistic growth, and of course her favorite Coclico styles.
Staff writer Anna Kadinoff.
Personal Philosophies
I believe in working hard, challenging yourself, and also questioning yourself when you feel that something is keeping you from moving forward. I am passionate about anything that makes you grow, even if sometimes life has its way of teaching you... I am always grateful for everything. 
"I just try to be honest with what I create. There is no lie on paper. That, I am sure the viewer can feel. Now if they like it or not, it's out of my hands."
Creative Spaces
California is home. Paris and NYC are also home but belong to a different time of my life. This past year has been very challenging for all of us, but it has forced us to cut to the core, discovering what we care about the most. What we need is more important than what we want or desire.

Tell us about your favorite space in your home.
It's hard to say. It changes depending on the amount of creativity that goes on inside the house. When my boyfriend plays guitar, I love being close to it. When I am baking French recipes, it's the kitchen. When I like to write and draw, it's the office.
"The place you go when you create is personal. Not intellectual. It's in your heart."
Side
Personal Style
Sometimes, I like to feel glamorous, sometimes I just like to wear jeans and a big sweatshirt, but ultimately I like comfortable clothes and shoes. Something that feels like a second skin is always a big winner.


Coclico Favorites: The Eagle Pump & Noel Sandal
I love the ageless style of those shoes and that I can wear them as dressed up but also day-to-day casual. I love the light tones that can match every outfit.


Loan's New Chapter: Who is Blueboo?
It's the story of a blue monster living in the Brown Woods, who meets with the last caterpillar left in the forest. A transformation occurs when he realizes that he is different from the others. This book probably marks the beginning of a new chapter that has been a long time coming.
What are you currently working on that you're most excited to share?
I am working on a new book. It's the story of a little girl who is looking for a home and will ultimately have to face her past in order to build her future.


Bonus: Tell us about your pup!
Oh Juju! I don't know where to start... We all know how amazing dogs are, how faithful and loving they can be. June is full of energy! She lost an eye soon after we got her, and I am still amazed by her resilience. She is the "constant happy type." Nothing puts her down, literally nothing. She is a ball of joy and she has no fear. She never barks back at other dogs and snaps. She is a force and an example.