Rubeena Ratcliffe
Anna Kadinoff
August 19, 2021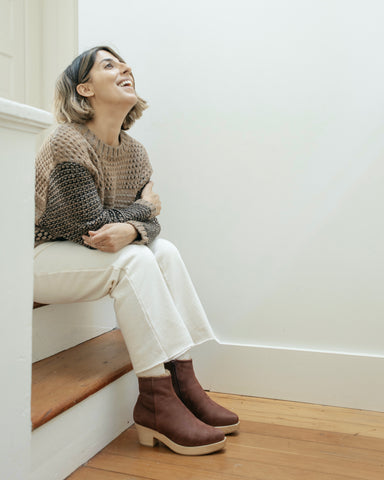 What would happen if we threw away the rule book? If we gave ourselves the freedom to create, without the looming threat of judgement or criticism; if the only tenet we held dear was one of honesty? According to Vancouver based abstract artist, Rubeena Ratcliffe, what others think of her art is none of her business. What's important is to find meaning and beauty in the chaos. Despite her "circus-eccentric lifestyle," with three dancing, fighting and, mess making children (peep her instagram for the spilt milk incident), Rubeena works to simplify her paintings to their minimal state. The result: Beauty. In this interview, Rubeena speaks about family, breaking the rules, and staying true to herself in an ever changing world.
Staff writer Anna Kadinoff
Who is Rubeena?
I try not to take myself too seriously. I love to laugh and I love making others laugh too. I know I am loved by my family – both my family of origin and the one of my choosing. The best way I've learned is by making mistakes. I have learned that life does not need to be difficult. If I stay true to my integral core value system, making art gives me immense joy.
"I don't follow a rule book. I've learned that what others think of my art is none of my business."
Tell us about the last place you found inspiration.
I am currently writing this from my childhood home in Edmonton Alberta. We live across from a farm that still looks exactly the same as when I was four years old. The open skies and fields have always stirred up inspiration. I also find being with certain people — close creative friends, my mom, sisters, and grandmother— inspires me. Their stories take me to places that may or may not exist.
Generations of rule breakers
My parents immigrated from India to Canada in the 70's. They both came from traditional Sikh families and both broke many traditions. My mother was the only one in her family to go to University completing her masters degree. Afterwards, she got married to my father through an arranged marriage. She was a very hard-working homemaker with her primary concern being the welfare of me and my sisters.

I have always been mesmerized with my Mom's sense of style and taste. She is the epitome of glamour. Even while asleep or cooking she rocks a Kaftan like no other. My Dad also had a great style and took risks in both fashion and work. He was the first out of the men in his family to cut his hair. He does not follow any religion and is an atheist which is not the norm.
As an abstract artist, your work is subject to interpretation. With this in mind, what intentions do you have when you start a piece, and how do you know when you're done?
Mostly to trust my instincts, have fun and to not be afraid of mistakes. I was trained as an Architect and loved the Schematic Phase of Architecture. Which in short is a general overview of a project. Composing light and dark, public and private. All of my paintings begin energetically and are quite busy. I throw everything at them, testing colours and shapes. Usually during this time, I will have several distractions, whether it be children, family, cleaning, a pandemic. Ha. By the time I'm nearing the end of a painting, I intentionally try to simplify the piece to its minimal state, only illustrating what I would deem essential.
Personal Style
My personal style is joyful and how I feel on that particular day. I'm not a stickler if something falls apart or when paint gets on it. I used to be worried about ruining my clothes, sometimes wearing a piece only once a year, but in the last few years I realized that painting is intrinsic to my style, and the way I feel is most important. Comfort and Beauty are what I strive for. Sleeping in comfortable, beautiful pajamas is just as important as the way my Levis fit and look.
As one of the first people to see Coclico's Fall '21 collection, could you share some of your favorite styles and how you plan to style them?
I am obsessed with the boots and slides that are lined with the soft shearling. The nice thing about these is that they can be styled with anything. A pair of ankle length pants or a midi skirt. I've started wearing the boots with a dress and I did not want to take them off.

Many of the photos of your work also feature little bodies scurrying by, dancing, or living their adorable lives. What relationship do your children have with your work? Do they produce any abstract pieces of their own?
Oh those guys! ;) I think it's a very fun world for our kids. Yes, they are always running around playing or fighting or telling the two-year-old to say some 'not good' words. It's very much a sort of circus-eccentric lifestyle. My oldest daughter, who is ten years old, prefers to dabble in realism while my son, who is seven years old, says he isn't an artist. I'm reluctant to say that he probably will be an abstract artist. The youngest believes everything is HER canvas.....it's a problem.
The big bad…walker?
Our littlest girl Indira is terrified of my eighty-nine year old grandmother, Biji. We are not sure why she is, but we find the whole situation hilarious. Biji has been living with my mom in Edmonton and is right now sporting a walker. The sound of the slate floors and Biji's walker terrifies Indi. She becomes a koala and shuts her eyes until she knows Biji is back in her room. I may have to record the sound and send it to a Foley Artist of the Conjuring.

Bonus question: In a miraculous turn of events, you find yourself with no kids, no pup, and no responsibilities for the day. What is your first move?
Calling my twin sister in hopes that she also has no responsibilities either.