MARIAPAZ FERNANDEZ
Anna Kadinoff
March 17, 2022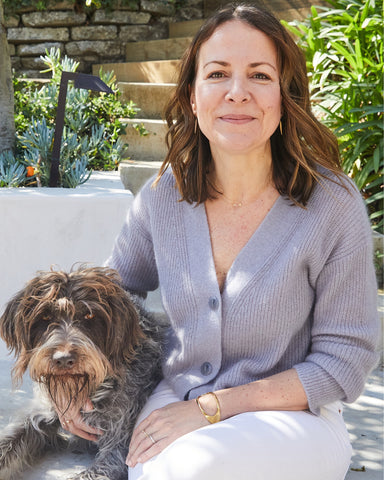 If you're familiar with Coclico, you know that the beauty is in the details. Although our community is comprised of a variety of strong individuals, we're united in our appreciation for modern, minimalist design (and perhaps a slight obsession with women's footwear). A long time member and exemplar of the Coclico community, Los Angeles-based architect Mariapaz Fernandez is no stranger to the understated. As co-founders of Fleetwood Fernandez Architects, Paz and her husband Hunter work to capture the unique narrative of every project they take on, from single family homes to restaurants and creative spaces. They view architecture as a "dialogue by which each client can create their own way of living." Join us, as Mariapaz discusses the intersection between home and work, sustainable architecture, and her Coclico love story. And Paz, Coclico loves you back. 
Staff writer Anna Kadinoff.
At Fleetwood Fernandez Architects, you take on a variety of different projects from residential to institutional. How do you taper your approach to different clients and create the "synergy" you've mentioned in past interviews?
We enjoy having different types of projects in the studio. We mostly do single family homes, restaurants, and creative workplaces. While it's true that different projects need different services and approaches, we cross-pollinate concepts and ideas among different typologies. For instance, we like to introduce the concept of home into a workplace environment, focusing the entire design idea around a kitchen. Or since we design restaurants, when we work on a house, we can bring a more professional approach to the design of the kitchen.
Describe your design aesthetic in three words.
Reduced, crafted, quiet.
Tell us about the Taslimi house. As an environmentally conscious brand, we're especially interested in this LEED-certified project.
The Taslimi house remains a very special project for us. We were very proud to craft a house that achieved the highest level of environmental certifications without losing any of its creative identity. Some of the more notable sustainable features include a gray water system that recycles water from sinks to irrigate the garden; a rainwater cistern; and a natural air conditioning system that cycles air 15' below ground to cool it off before using it in the house. All the finishes have recycled components and are low VOC. Along with the clients, we also selected all the furniture and fixtures for the house, including many vintage items.
A Coclico Love Story
I fell in love with the brand many years ago when a friend brought me to the Nolita store. I bought a pair of ankle boots that I wore until I couldn't resole them anymore! What I appreciate the most about the shoes is the craftsmanship, paired with a minimalist but studied aesthetic, which is what I strive for on my projects. It also doesn't hurt that they are made in Spain. Over the years I have collected so many pairs, and the beauty of their style is that I can wear them with any outfit. The flats and shearling lined slides and boots are like ultramarathon runners, but my all-time favorite is a pair of gold pumps I save for special occasions.
"I love the complex, deep color of the dark blue. It reminds me of the color of the sea at home (in Mallorca) in the winter." 
As an architect, much of your life is spent in attention to form and line. How does this influence your personal style?
My personal style is also very minimal and streamlined. I don't wear patterns, and always gravitate towards dresses and jumpers that are comfortable but tailored. I appreciate rigorous and unexpected details. So, yes, that sounds pretty much like my work too.
Since your business partner also happens to be your husband, we understand that work often permeates other areas of your life. What does a day off look like for you?
A rare day off is usually spent hiking with our pup in Griffith Park or going to one of the dog-friendly beaches in the area. Now that things are opening up again, we try to make it to a gallery or museum and catch up on exhibitions. Hunter and I both love to cook, so we'll pick up provisions at the farmers market and invite friends over for dinner.

We would be remiss if we didn't ask about the furry friend in your photos— we hear he's the favorite at home and at work. 
 Our current furry family member is Sancho, named after Sancho Panza. Like his literary namesake he is the best sidekick, faithful and funny.