Laura Chávez Silverman
Anna Kadinoff
October 21, 2021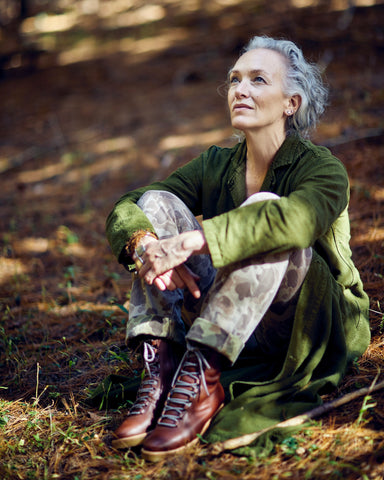 As she treads softly through the underbrush, her eyes dancing among the many shapes and colors to be found in the Western Catskills, Laura Chávez Silverman is at home. For her, Mother Nature is more than an escape from urban life, separate and imagined like the setting of a Laura Ingall's Wilder book, She is everywhere. Though once a city dweller, Silverman now makes a profession of helping others connect to what she calls "the healing and transformative powers of Nature." As an award-winning writer, branding consultant, and the founder of The Outside Institute — a year-round program that offers an array of nature-based workshops including "guided nature walks, forest immersion, sustainable foraging education, wildcrafting workshops and botanical mixology" — Laura juggles many roles, but her mission is clear. Join us, as we discuss a different way to see the world.
The following is a conversation between Laura and Coclico Designer, Lisa Nading, who dwells in the woods of Vermont. Photos by Randazzo & Blau.
Staff writer Anna Kadinoff.
I'd like to know more about the occurrences in your own life that brought you to your calling and shaped your mission.
In 2009, my husband and I left our longtime home in New York City to live permanently in our weekend cottage in the Western Catskills. We felt ready for something new, but the move engendered some profound changes I did not anticipate. Becoming immersed in Nature opened me up to a new way of connecting to myself and to the world around me that led to what is, for all intents and purposes, an entirely new and more fulfilled life.
Will you comment on the changes or lack of change that you have found in people's attitude and approach toward nature during the pre-pandemic, early days of the pandemic and now? This can be a general impression or you're welcome to recall some individual anecdotes.
I spent years exploring the local flora, fauna and fungi and eventually felt called to share what I had learned with others. This area is the land of the Lenape, an indigenous people who consider the Upper Delaware Valley to be a sacred place of healing. Their knowledge and wisdom are vital to what we understand about being native to a place. I launched The Outside Institute in 2017 with a mission to connect people to the healing and transformative powers of Nature. At that time, there was already a real yearning for these teachings—from people living locally but also from city dwellers, especially Brooklynites. Every year, interest has grown and, during the pandemic, exponentially so. Tons of people fled the city, bought or rented houses upstate, and many have remained for good. They all want to understand what is growing on their land and learn how to forage.
Please share what is inspiring you that's happening outside these early days of autumn? What are you looking forward to this winter?
This fall has been an especially abundant time for mushrooms, which happens every few years. Such an incredible variety of shapes and colors: boletes, slime molds, coral fungi, stinkhorns, lion's mane, hen of the woods! I harvest many edible and medicinal ones, so it's been a very busy season of gathering and processing, in addition to leading walks. That's one reason I am very much looking forward to a quieter, more introspective winter. Lots of roaring fires and time to restore and envision.

Do you have projects on the horizon you would like to share here?
I am working on a book about my personal journey back to Nature that's part memoir and part how-to for others looking to rediscover their own connection to the wild. I'm also searching for a nearby headquarters for The Outside Institute, somewhere I can hold classes and workshops, ideally on or near land for leading walks.
I believe you studied comparative literature in college which leads me to think it may have been a lifelong curiosity and interest to seek connections and see relationships whether it be through culture or nature. How do you integrate your professional life with your passion?
I still make my living as a creative director, working with brands on their images and messaging. The Outside Institute is an opportunity for me to share another part of myself and to hone a different way of seeing and being in the world. The two endeavors overlap in their aim to shine a light on beauty, meaning and interconnectedness.

We're so fortunate to live where we can walk out the door and be immediately reminded of the rich community of life all around us. Any tips for urban dwellers who might have limited access to larger tracts of wildness on ways to decompress and feel closer to the centering benefits of being in natural settings?
I am frequently asked this question by city inhabitants, who are not used to truly observing the world around them. We are not separate from Nature but of Nature and she is everywhere. Hawks nest on skyscrapers. Giant puffball mushrooms pop up in abandoned lots. Mugwort, wild carrot, chicory and burdock grow along highways. Look up and discover the stars, the phases of the moon, the types of clouds. Learn about the birds and bugs and the scrappy plants that poke up through cracks in the sidewalks. Visit city parks and seek out the wetlands, hills or farmlands that inevitably border most urban areas. Consult field guides and YouTube videos and find a naturalist mentor through a local botanical garden or mycological society.
What is your relationship to style and personal presentation? Is it a form of expression for you? In what ways?
I've always been very drawn to color, pattern and texture and to textiles and handicrafts like embroidery and felting. The early days of my career were spent in the fashion industry and I definitely consider what I wear to be a vital component of my personal expression, my aesthetic and my values. These days I lead a largely outdoor life and it can be challenging to find things that are both functional and stylish. Coclico does a great job walking that line, offering workable options that are sustainably made and look really gorgeous. I also wear a lot of vintage—rugged, well-crafted pieces that are comfortable and built to withstand the elements. I regularly tromp through forests, fields and marshes and I like to look and feel like I belong there.
This has been an incredible season for mushrooms here in the northeast. The rains have created an explosion of fungal flowers. What is your favorite mushroom (or slime mold)? And why?
My favorite edible mushroom is the black trumpet. Such a dark, mysterious beauty and so packed with rich, savory flavor. I also love cup fungi—if you blow gently into them and wait two seconds, they emit a magical puff of spores!
For laughs, what animal, vegetable, or mineral do you feel the most akin to?
I feel a kinship with all other beings, but not necessarily "akin" to any particular one. I am now deeply rooted in the Western Catskills but also quickly acclimate to other landscapes: the California coast where I grew up, the Willamette Valley, the herbaceous hillsides of Syros. Wherever I go, I seek out the wild places, because that's where I feel most at home.