CAROLINA PALMGREN
Anna Kadinoff
February 07, 2022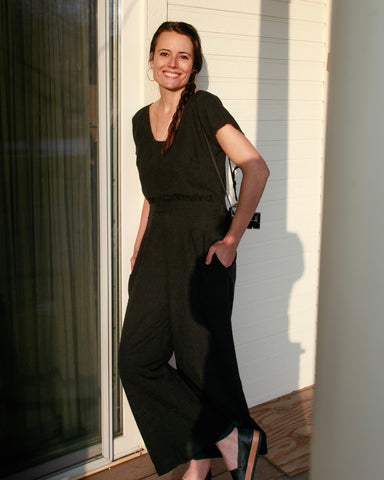 You can take the girl out of the city, but you can't take the city out of the girl— or so the saying goes. By all accounts, Carolina Palmgren's life sounds like the beginning of a sitcom: busy NYC photographer and branding consultant meets the mooing countryside of Idaho (admit it, you would watch it), but perhaps she's cracked the code on thriving in a pandemic ridden world. While Palmgren's hybrid lifestyle may be unconventional, it's given her the freedom to live the best of both worlds, collaborating with brands remotely from the comfort of the farm as well as jet setting to LA and NYC for photoshoots. In this interview, Carolina shares her past and present, from her creative upbringing in Sweden to her current vacation-like reality in Idaho. An added bonus? She also has a taste for sustainable, female-run brands.
Staff writer Anna Kadinoff.
Who is Carolina Palmgren? When asked to describe yourself, where do you begin? How do you tell your own story?

After going to school for graphic design, followed by years in advertising and art direction, I developed a love for visual storytelling — I'm always searching for ways to communicate visually. I collaborate with businesses to create all areas of visuals from logos and photos to websites.

In terms of how I identify in the world, it's very much as a creative, a maker of things, drawn to all things beauty in various forms.

Being a mom is an identity of its own and one I'm expanding and learning with each year. I have two wonderful boys who are teaching me everything there is to know about play, love, joy, and personal growth.

Does your Swedish upbringing influence your work? If so, in what ways?

Yes, in so many ways. The Swedish love for minimalism, nature, and some level of introspection is always present in my thinking. I'm also incredibly grateful for the education I received as a young artist where I really got a chance to explore a range of mediums such as sculpture, painting, and darkroom photography while also getting lots of exposure to film, music, and theatre. There is a lot of emphasis placed on process and quality in Sweden which I think has created a foundational direction for me that has been really useful even as my medium of work has shifted over the years, from graphic design to what I do now — full service branding and photography.
Your body of work includes a wide variety of projects; how do you choose the work you take on? You mentioned working with Mara Hoffman, a brand committed to "implementing more sustainable and responsible practices" —what drew you to this brand and equally, what drew you to Coclico? Is it a coincidence that both brands are female owned and environmentally conscious?

No, not at all. I'm actively seeking out people and brands whose work I admire and feel an alignment with on multiple levels. Working with founders in sustainability has been a long term goal for me that is manifesting in an exciting way right now. Having been in fashion for over 18 years, I value slow fashion and mindful shopping. Being able to help brands in this realm is giving me a lot of joy and exciting creative collaborations as a result.

Overall, I've been blessed with a wide range of clients, all of whom challenge me in different ways and who, thanks to my background as an art director, are not necessarily clients who share the same style, but rather who hire me for custom solutions which can vary from client to client.
We understand you were living in NYC until the pandemic hit and are currently living on a farm in Idaho— we can't imagine a bigger contrast! Can you speak to this experience and how your relationship to 'place" has changed?

Yes! I am a New Yorker of 15 years now. The Idaho thing was completely random and a last minute offer to stay on this farm with a huge barn and lots of land, and we jumped on it. In fact, being in NYC and NOT working was quite an eye opener on just that. My relationship to NYC and my work there was so tied into my own sense of identity. In retrospect, I wish I had just gone with the flow a bit quicker!

I'm grateful for this opportunity and also that it's temporary. Now I enjoy heading back to NYC or LA to schedule in-person meetings and photoshoots about once a month. I pinch myself because my everyday work and life working remotely for clients on a farm has become a vacation on its own, while also enabling me to travel a lot.
Do you have any funny anecdotes about moving to the countryside?

A few early nights anxiously not being able to sleep because it was almost too quiet, together with some random mooing and creatures howling at night.

How would you describe your personal style; how does your lifestyle inform what you wear? Tell us about 'city Carolina' vs. 'country Carolina.'

Uhm well, I got a bit more lazy knowing I would not run into anyone. And as it turns out, I packed too many jackets and not enough other clothes when I got here. In general, I prefer comfortable clothes all around and love jumpsuits, cozy sweaters, and sneakers (though I will step out in heels for the right reason - more likely so in NYC). To sum it up, Idaho is more of a night-to-day outfit kind of place whereas NYC is more day-to-night.
How do you style your favorite Coclico shoes?

They all work great with denim, loose fitted pants, and anything else really. In the city I went for the boots when I was shooting, but later realized that the heels I got also are so comfortable that I could wear them for a full day. You can easily dress up even casual looks with any of these shoes since they are so well made— they help pull the look together.

As a photographer, are there any questions that you wish people asked you about your work?
Just "When can you work for us?" :)

Describe one of your favorite photos. What makes it beautiful to you?

While I can't pick a favorite child, I do love this image here and it's been in my book for a while. There is a moment of stillness and timelessness in this image that I really like and the presence of water and sky is something I often come back to.
In reality it was part of a crazy hot day outside of the city with 2 models and a full team where we shot a 20-page lookbook, 50+ instagram shots, and a video! Phew. We took lots of swim breaks that day and I'm so happy how the shoot came out. Only possible with a pro team for sure!

Do you have any resolutions for the New Year? What can we expect to see from you in this next journey around the sun?

I'm super excited to be focusing more on integrated branding and photography solutions for independent brands via my mini agency Multiple Form.

Also, planning on having lots of fun and more dancing!