ANNA SCHILLING
Diana Haber
September 29, 2021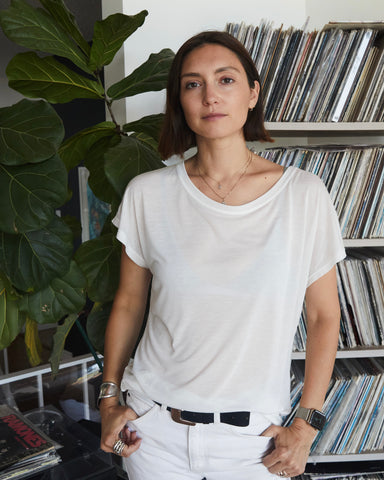 As we cling to the last days of summer —air conditioners humming, summer dresses flowing, but the taste of fall on our lips — there are few things we can say with certainty. What will this new season hold in store for us? What will be our new normal? If there's one thing we at Coclico are sure of, it's that each step forward should be made thoughtfully. For California-based stylist, Anna Schilling, whether her fit-of-the-day is destined to see the walls of her home or those of a Parisian chateau, she keeps it bold, colorful, textured, and fun. We choose how to tell our story, and according to this former model, regardless of how much time we have to put ourselves together, it's all about choosing wisely. Our favorite bit of fashion advice from Anna? The right pair of shoes can "elevate and pull everything together [...] they are the most important part of the outfit." In this interview, Anna talks about home, her personal clothing archive, and how to style everything from a five-year-old's birthday party to the zombie apocalypse (yes, we asked).
Staff writer Anna Kadinoff. 

How do you tell your own story?
I would start with the beginning of course! My parents met in their twenties, they were married in 1986's and shortly after (1987 to be exact) I was born. I was raised in Southern New Jersey and lived there until I moved to NYC when I was seventeen to pursue a modeling career that lasted over 10 years. I stayed in NYC until after I met my husband of 8 years now. In 2015, we were expecting our first of two babies and decided our lifestyle would be best with children in Los Angeles, so off we went! We have been living in LA for 6 years now and have two sweet little boys, Kingston and Marlowe. While I was ending my modeling career, I started to chase my real dream job which was stylist and fashion editor. I started to assist both in NYC and LA until I started with my own business and I have been working in this field ever since.



Tell us about the part of the world you call home, has your relationship to 'place' changed in this past year?
Our home is in Los Angeles, we live in the Northeast part of the city so we are positioned directly in front of the San Gabriel Mountains. The view of these stunning mountains graciously wraps around the front of our home. Our neighborhood is on a hill that is also home to endless amounts of Red Tail Hawks, owls, and packs of coyotes. Luckily, it is a quiet and beautiful escape from the nearby downtown LA and the busyness of West Hollywood. We were drawn to this location because of the beautiful trails to walk and the architecture of the homes.

If you asked me 5 years ago to describe a home in which you could happily stay if there were a global pandemic and stay-at-home orders were in place, I would tell you about needing space for the children to have a large art/ classroom and a place for my husband to continue to work. I would explain how it would be crucial that there were plenty of windows so everyone could get lots of natural light and enough room to do exercise. We feel incredibly lucky to have had this home to weather 2020 and not a day passes where I don't consider that blessing.
Are there any objects in your life that are talismans of your story?
This question made me laugh out loud (LOL...LITERALLY!) only because I pictured sharing all the individual photos of my endless archive of clothing! I have collected vintage and current pieces from the moment I started roaming the streets of NYC and London, and Paris — so for over a decade now! I think there are many many talismans of my story, too many to share but they involve Slayer t-shirts from the early 90s, 1980's Norma Kamali, and a massive archive from my good friend and designer Christian Siriano.
Personal Style
My personal style, I would say, is bold and fun, I really truly like to wear unique and special things. My style has changed a lot of course from the days and nights of NYC adventures to being a working Mom now, but I have not fully relented! I really love a strong blazer in a bright color or fun print, and thankfully flat shoes have come to the forefront as comfort is mostly key these days! If there is a day where I have 10 hours of work and then home to the kids I would most likely wear a great high waist jean that feels slightly tailored, a t-shirt tucked in, a metallic gold or silver neck scarf and a strong blazer over top. I would pair this with a statement flat or a super elevated combat style boot.


On Beauty
Beauty to me is someone comfortable in their own skin. When you see someone with confidence that comes from within you are drawn to them. I struggle when clients don't believe they can "pull something off", if you absolutely love and identify with a style and it feels true to your character...10,000 % you can pull it off!
As the mother of two adorable boys, you know that time is a rare luxury. Do you have any quick tips for everyday elegance? How do you juggle everything and still leave the house (or not) looking fabulous?
Time indeed is a rare luxury these days! Quick tips would be for sure having a few wardrobe staples to build on that are easy to grab like the perfect pant/jean , skirt or t-shirt. From this you can have a favorite blazer or jacket and for sure a great shoe!

Shoes elevate and pull everything together, I feel they are the most important part of the outfit, truly!

A current shoe can bring things from seasons ago back into style and make them feel fresh. I also love having a few small silk neck scarves around that you can tie closely to the neck to add a print or texture to your look.

After a year of styling "outfits to go nowhere," how has your personal sense of style changed?
I would be heartbroken reading this in 5 years if I said yes...LOL! The truth is NO! My style has not changed, I have for sure grown to appreciate a sneaker (thank you to all making really fabulous sneakers these days Coclico included!!!). I think potentially overdressing in the past has after last year landed me somewhere around appropriately dressed for the moment now!
This season (and hopefully for many more!) you're wearing the Court Slide and Oopsy & Oro Sneakers from our current collection. Tell us what stood out to you about these styles and how you plan to wear them.
Truly styles that can take you into many occasions, this is what I immediately loved. I will be wearing these with elevated trousers and dresses as well as with more daytime dresses and skirts. The beauty of these styles, aside from what you see when you take a first look, is that they are so well made. The craftsmanship alone is so fabulous!

What was the last thing that made you belly laugh?
Aside from question 3 above, I think I was laughing at my boys of course. They are somehow so different but both share the same sentiment of "Watch out world, I am on a mission and I will stop for no one" attitude which is completely exhausting! Also, the 5-year-old has taken to calling me "Anna" instead of "Mom," which depending on what comes next sometimes warrants a belly laugh as well.



Tell us about an item on your bucket list.
I truly do not have one!! However...I think it is time to make one ;) . I think the first item on there would have to be taking a super luxury train journey on the Belmond across the Andes or through Europe during the snowiest season possible!

Bonus question: How would you style the following events:
A five-year-old's birthday party - I always like to wear something bright colored and super fun to kid parties! A fun vintage sequin top with jeans and sneakers is always great or a dress with a fun or bold pattern!

Brunch with the girls - Brunch! I love a coordinated suit for a time like this perhaps pink or white pin stripe with a pretty elegant shoe!

The zombie apocalypse - I already have my go bag packed for this because it could be next year right?! I think for sure it calls for leather trousers, an oversized hoodie covered in crystals and gemstones (super shiny to blind the zombies with our headlamps and flashlights shining on our clothes) and a pair 8-inch platform over-the-knee boots with sneaker treads on the bottom so we can run of course!